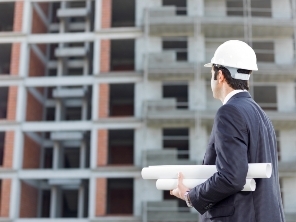 At various times in my life, I have struggled to get a good night's sleep. When my wife and I had babies in the house, a good night's sleep was pretty much replaced by short naps between feedings and diaper changings. Due to frequent travel, I often have jet lag and have some challenges getting my body clock and time zones to synch up. But for me and lots of folks, restless nights are often caused by worries that nag us well into the late hours of the night.
In today's explosion of technology, the concept of the "Building of the Future" must create a lot of concerns and challenges for building owners and real estate management. The idea of planning a "Building of the Future" implies developing a blue print that is not only groundbreaking, but also forward-thinking. Sure this can be exciting, but with an expenditure spanning from millions to possibly billions of dollars, it could cause you to lose a bit of sleep.
To help you feel better about the large expenditure for buildings, here are three S's that I believe should be carefully considered as buildings are being visualized, designed and built:
Security – Naturally there are the normal physical security considerations such as building access, personnel clearance and others. When thinking about a building that supports Wi-Fi, wireless mobility and more traditional IP and wired infrastructure, data integrity is also a big concern. Each approach has pros and cons, and for most applications, appropriate database encryption and password management are proven approaches. Often, there is a need to provide both an internal Wi-Fi network for employees and tenants and a public Wi-Fi network for guests.
Safety – There is a host of public safety systems in operation around the world today. For example, in the US there are public safety and emergency response systems that operate in a variety of frequency bands. Today there are initiatives to develop a coast-to-coast emergency response system with 700 MHz LTE. In Europe, the traditional TETRA networks in the 380 Mhz bands are also being considered for future upgrades. In addition to emergency response, there are potential applications for in-building location systems, similar to the E-911 location requirements for outside applications.
Stability – Once these systems are in place, they become normal and expected services, which inherently implies a certain level of system availability and performance stability. Beyond pure reliability, we also know that the performance of both Wi-Fi and wireless technologies are influenced by the number of users and the applications being run at any particular time.
There are many factors driving the next generation of smart buildings and taking these steps might help those involved sleep a little better at night.
Also, if you are attending the 2015 Winter BICSI Conference & Exhibition in Orlando, from February 22 -26, be sure to stop by CommScope booth #215 to see and hear about some of the latest technology and concepts that support the "Building of the Future."
If you have any questions about the three S's or have something to add about planning a new building, leave a comment below.