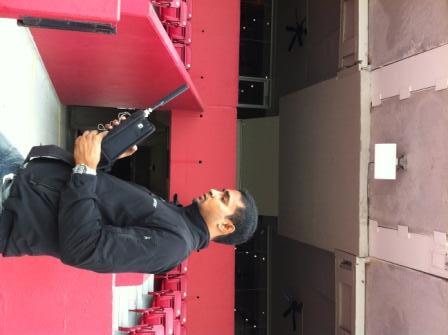 A recent Cabling Installation and Maintenance article describes how important wireless connectivity is becoming to National Football League (NFL) stadium owners who are trying to keep fans coming to games. Watching NFL games at home has become so attractive to fans— thanks to the ability to watch multiple games and check fantasy football scores on TVs, smartphones and computers at home—that game attendance has declined. The article talks about how improved in-stadium connectivity and applications can help stem the trend to stay home.
Of course, as NFL Network reporter Albert Breer says in the article, improving connectivity in stadiums is not easy. He says, "It's expensive and complicated for clubs to pull this off, particularly in older stadiums, but it's absolutely, positively necessary, and will allow more programming through smartphones."
So, how do stadium owners improve connectivity? As the article notes, a distributed antenna system (DAS) is the most popular method; however, how do you deploy a DAS and how do you know that you are doing it right? Besides the old adage of finding a trusted partner, here's one bit of advice I have to offer--don't underestimate the value of multiples.
What I mean is do not discount the importance of having the ability to support multiple operators, technologies and frequencies in your DAS. Think about your mobile phone now. Now think about the mobile phone you had in 2009. There probably is a huge difference in what those two phones can do.
The changes you see in mobile devices mirror changes in mobile networks. New technologies get deployed using different frequency bands to deliver better services for subscribers. Is just one operator doing this? Will all the fans visiting a stadium be customers of just one operator? Of course not. There are usually three to five operators in most developed wireless markets. A DAS that can support multiple operators for the technology and frequencies they use now and in the future leads to a better return on the investment.
That's the value of multiples. Find a DAS that offers a full multi-frequency, multi-operator and multi-technology platform. Of course, there are different ways of supporting multiple operators. CommScope's way is to use one amplifier per frequency band, so that all operators can share the power within that frequency band. Some other systems do it differently, giving only one amplifier to each operator. We believe our "shared amplifier" approach provides distinct advantages in form factor, agility, power consumption, less use of fiber runs, etc. Additionally, our intelligent point of interface (iPOI) offers embedded electronic features that we think are unique to the DAS market today. These features may increase speed to market by helping deploy a DAS network quickly to meet time constraints.
The bottom line is when you are deploying DAS in stadiums or other large venues you must think in multiples. Thinking in multiples should help NFL owners improve the fan experience at games by delivering great content wirelessly to whatever mobile devices fans bring. That should get fans back in the seats, enjoying the experience in all the formats they want.