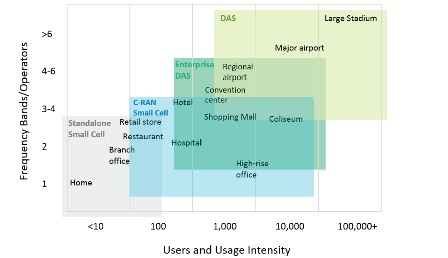 We spend much of our time inside buildings—whether in offices, schools, homes or entertainment centers. We expect to be connected wirelessly always. But often, the connection is poor or intermittent when we are indoors. This can be a real problem for network operators trying to ensure a high quality of service for customers.
I recently met with many wireless service providers from the Caribbean and Latin America (CALA) region. Currently, most of these operators use outdoor infrastructure as their first approach to try and solve their indoor connectivity problems. Although there are a few examples of places with indoor wireless solutions—mostly stadiums and high traffic locations—many these have been done with passive solutions. CALA is not quite at the tipping point for wide-scale, dedicated, active indoor wireless solutions…but it will be.
Growing demand for wireless connectivity will continue to challenge operators, indoors and out. It is estimated that 90% of the world population will be covered by mobile broadband networks by 2021. About 80% of mobile connections are made from inside buildings, yet only 2% of available commercial real estate has indoor cellular networks to meet the demand for connectivity. Facing this challenge in the CALA region would be a complex task without help. That is where CommScope comes in.
We are working with CALA operators to help them better analyze in-building wireless challenges and find the right solution. We offer advice based on best practices developed through our years of experience and thousands of distributed antenna systems (DAS) deployed. We discuss the benefits that solutions like small cells and new DAS solutions trends, through C-RAN system and virtualization, can offer such as better indoor coverage, user experiences and profitable growth, along with sustainable savings of logical and physical resources. We hope this leads to a true culture of dedicated indoor solutions—whether active, passive or hybrid. At CommScope, we have solutions suitable for the needs of many different user profiles.
Want to learn more? Leave me a comment and I'll gladly respond.