Recently I was in San Paulo, Brazil conducting a technology seminar about practical considerations for LTE implementation. San Paulo is an amazing city. It is very much an industrial center, but it also has an expanding skyline of beautiful high rise buildings in very modern, urban landscapes.
On the day after the seminar, I headed off in a cab to the airport. The airport and my hotel were on opposite sides of the city, so I expected a long drive. I was not disappointed. The highway system in San Paulo is the largest in Brazil, covering some 34,650 kilometers. It also has the largest number of two, four and six lane highways in all of Latin America—and they need them all. On my trip to the airport, the highway (Rodovia in Portuguese) was bumper to bumper, and I had plenty of opportunity to look around.
Wireless techie geeks like me tend to look for (you guessed it) cell towers and installations when we are stranded with nothing to do. I started looking at cell sites all along that roadway. I always look for the antennas first and try to see if they have a lot of mechanical tilting or are placed in ways that would cause shadowing or pattern distortion. Then I try to look down the tower at the way transmission lines are dressed. Of course, if the site has a microwave backhaul antenna, I am looking for the well-known "Andrew Flash" logo.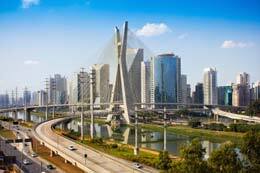 On this drive, I also started looking at the other structures along the roadway, wondering why those structures couldn't also be great cell sites. We already see a lot of activity in the industry with sites being camouflaged to look like palm trees or church towers or chimneys. I started asking myself, "What else could be done?"
How about the masts that hold billboards?
What about integrating cell sites into the roadway signs that indicate upcoming exits?
What about sites built for dual purposes, like advertising combined with wireless, or emergency warnings with wireless or lighting?
What about sites that are triangle shaped or tube shaped or mushroom shaped or some combination of all the above?
By the time I got to the airport, I had designed (in my head) at least 10 variations of new wireless sites, and then it hit me—any one of these ideas might be great in some locations but not in others. The real question is how can we arrange the key RF elements in ways that are modular, flexible, scalable, reliable, easy to install, and easy to maintain so that they can be quickly and readily integrated into a wide variety of final implementations?
Those, of course, are hugely important considerations, and ones I work on answering for our customers. I would love to hear from any readers how they have turned existing structures into wireless sites. And for those who have not, where else have you envisioned a current structure converting into a wireless site?