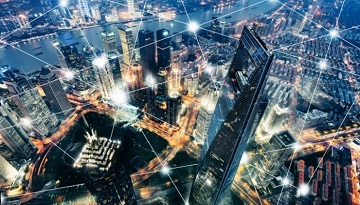 India's Prime Minister Mr. Narendra Modi said this a few years ago: "Cities in the past were built on riverbanks. They are now built along highways. But in the future, they will be built based on availability of optical fiber networks and next-generation infrastructure." He reinforced this by announcing the national agenda to build 100 Smart Cities across the country.
CLICK TO TWEET: 5G and wireless connectivity will be the foundation of smart cities. Ashok Srinivasan explains in this blog.
Urbanization is rising rapidly in India. In 2018, about 34 percent of India's population lived in urban areas, according to a UN World population report and it was estimated more than 432 million people will live in the urban areas by 2021. With rising urbanization, the 'Smart Cities Mission' was created to enrich the lives of people and improve sustainability. For example, data from millions of sensors can be translated into real-time information to help people manage time and resources efficiently.
The Smart City Race
As the race heats up, we see nations in the region increasing efforts to launch smart initiatives. In China, one of the largest e-commerce players JD.com plans to build a JD-branded smart town, that will include smart retail, IOT, logistics lighting and transportation. Using the Tokyo 2020 Olympics, Japan will be looking at facial recognition technology to improve security while robot taxis are expected to ferry athletes and tourists between sports venues and the city center.
How close is India to achieving its Smart City mission? The country is at the beginning stages of implementation as it takes initial steps around governance in advancing the digital realm. There's plenty to be done before smart cities become a reality in India.
Network Connectivity is Critical
5G and wireless connectivity will be the foundation of Smart Cities because it holds the promise of superfast download speeds and unparalleled performance that will support new technologies. Join me at 2019 BICSI India Conference & Exhibition in Mumbai on April 12 as I share my presentation "Smart Cities - Connecting the Future", highlighting the following:
What makes a Smart City?
Why is connectivity critical for Smart City?
Key technology trends behind a successful Smart City
How CommScope can help to build and design the network infrastructure
Before the BICSI event, watch this video for a flavor on how wireless connectivity is the key foundation for a smart city:
Additional resources: