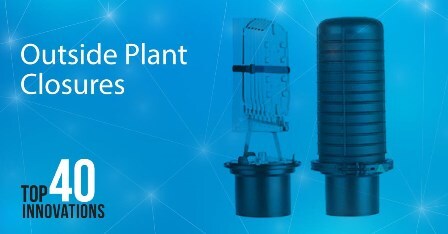 Note: we have been revealing in recent blog posts the top 40 innovations made by CommScope (or one of its acquired companies) as part of our 40th anniversary celebration. We continue today by revealing an innovation from the final grouping of innovations—the top 10—which are being announced in alphabetical order. These are our all-time greatest product and technology innovations. You can also review the complete list of innovations we've revealed so far and read more about the overall program and selection process in this November 4 post.
CommScope's Top 40 Innovations—Grouping 1-10
Outside Plant Closure Solutions
Definition: Gel seals help seal the cable entries of fiber optic closures in a very reliable and craft-insensitive way. It eliminates the use of gas torches, electrical generators or other specific tooling. It can be easily re-opened and re-used to add cables without compromising the connection.
Year of the Innovation: 1992
What is the innovation that CommScope or one of its acquired companies was first in creating?
Until 1992, most fiber closures – a box that contains the devices to connect various fiber optic cables – used heat shrinking as a sealing mechanism. This meant that a technician couldn't open the seal without having to replace it. In addition, heat shrinking required a torch or heat gun to install the seal, so technicians either needed a tank of gas (for a torch) or an electrical source such as a generator to power a heat gun. The market wanted to go to cold-sealing technologies. A Raychem division (now part of CommScope) was the first to use gel sealing for fiber closures in 1992. It further extended the application of this innovation to all fiber optic splice enclosure families with its fiber infrastructure sealing technology (FIST-GCOG) and fiber optic splice closure (FOSC-450) solutions between 1993 and 1998. This Raychem division developed the range of gel formulations as well as the specific physical geometry of the supporting structures that made gel sealing a reality.
What was happening in the market that this innovation was needed?
As fiber moved from central offices out into the access network in the early 1990s, there was a need for adding and replacing cables in the outside plant, where they were exposed to outdoor elements such as weather, water and more. However, all fiber-sealing technology at the time used heat shrinking as the seal, and these seals couldn't be opened without having to be replaced. The industry needed a re-sealable closure. The challenge was the gel composition – it had to survive 20-30 years in underground conditions, create a positive, watertight seal, and be easy to deploy. Other companies used solid rubber or mastic sealing mechanisms, but solid rubber often requires additional glue or grease to properly seal, and mastic can't be separated and reconnected along the same line. These materials are also more cumbersome to apply. Gel base seals can be easily applied by hand, and the gel can always be separated along the same parting line over and over again.
How did this innovation benefit customers and the industry?
Essentially, gel closures revolutionized the building of the outside plant by making copper and fiber closures watertight and easily applied. Gel closures were easily re-sealable and could be closed by simply pushing them together. This meant that no tools or heat sources were needed, and the system was easier and faster to install. It also required less technician expertise because technicians didn't have to be trained on heat shrinking technology.
Did this innovation act as the springboard for other innovations, and if so, how do they all tie together?
Gel closures became the standard sealing method for many CommScope cable joints for outside plant applications. FIST and FOSC products, as well as most copper cable joints and more recent fiber splice terminals, use gel-sealing technology today.
What is the significance of the innovation for CommScope?
The gel sealing technology is still a key differentiator in the fiber closure families we bring to market today, including FOSC and FIST. With the launch of the Tenio closure family three years ago, we took the next step in the modularity and ease of use of gel seals.
In 2016, CommScope sold a record number of the original gel-sealing blocks. Over more than 20 years, there has never been a reported failure of a gel block seal, which is clear evidence of the reliability and strength of this technology.
Related links: