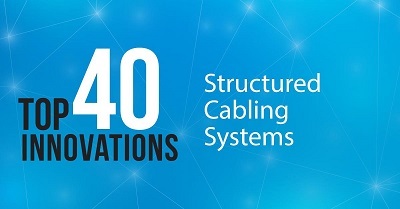 Note: we have been revealing in recent blog posts the top 40 innovations made by CommScope (or one of its acquired companies) as part of our 40th anniversary celebration. We continue today by revealing an innovation from the final grouping of innovations—the top 10—which are being announced in alphabetical order. These are our all-time greatest product and technology innovations. You can also review the complete list of innovations we've revealed so far and read more about the overall program and selection process in this November 4 post.
CommScope's Top 40 Innovations—Grouping 1-10
Structured Cabling Systems
Definition: Structured cabling systems include all of the cables, wire, and associated equipment and apparatus necessary to provide service from the network interface to the information outlet at the work location, or to any communication device within the customer premise.
Year of the Innovation: 1983
What is the innovation that CommScope or one of its acquired companies was first in creating?
In 1983, Bell Laboratories developed the first structured cabling system, which it called a Premises Distribution System (PDS) - an efficient, controlled architecture providing connectivity for voice, data, video and related applications. It included all of the cables, wire, and associated equipment and apparatus necessary to provide service from the network interface (where the local telephone company facilities interconnect to the PDS) to the information outlet at the work location or to communication devices within the customer premise. In the PDS's star-wired configuration, all cables ran back to a central point. The PDS provided a structured, systematic way of doing things and established standards for deploying cabling within a building, including cross-connects and outlet terminations. The PDS typically serves a building or group of buildings, but does not include the telephone company network facilities or the equipment connected to the PDS.
As time progressed, the need for a unique marketing name for the PDS became clear, and it was branded SYSTIMAX Structured Cabling System ("SYSTIMAX SCS") in 1989, and included a long-term system warranty that was far ahead of all competition at the time. AT&T's SYSTIMAX SCS became known as a single, modular, integrated system that supports data, voice, graphics, and video communications, as well as various types of LAN (local area network) standards. It has been the industry's top choice in structured cabling for both copper and fiber since its creation. The SYSTIMAX division was divested by AT&T into Lucent Technologies, then divested further into Avaya, and ultimately acquired by CommScope in 2004.
What was happening in the market that this innovation was needed?
Before the PDS, the Bell System was responsible for voice infrastructure, and data was done via Ethernet coax cabling on a bus architecture to which users would attach and share bandwidth. When the Bell System broke up in 1983, individual enterprises became responsible for their voice infrastructure, and therefore needed a systematic way to wire their buildings to handle voice as well as higher data rates. At about the same time, the introduction of digital transmission media, fiber cabling, and equipment into the network created a need for new construction guidelines and a systematic approach to infrastructure for an entire building or group of buildings in a campus environment.
How did this innovation benefit customers and the industry?
PDS and SYSTIMAX SCS were the first systematic approach to communications cabling in a building, enabling the early Ethernet LANs with Category 3 cable (Cat-3). Through many iterations, improvements, and continued innovation, the system has evolved to support today's ultra-high speeds and complex network architectures for the intelligent building, the campus, and the data center. The mission remains the same, however, helping our customers to meet their bandwidth demands; to simplify the planning, design, and construction of complex networks; and to stay ahead of their technology needs. With PDS and SYSTIMAX SCS, customers enjoy a standardized way of implementing a network that was application-independent and could scale with their needs.
Did this innovation act as the springboard for other innovations, and if so, how do they all tie together?
While SYSTIMAX SCS started out using basic 25-count twisted pair cable and 110 systems, it has evolved into a broad portfolio of copper and fiber cable and connector products. Today the CommScope portfolio includes all cable and apparatus associated with its PowerSUM (Cat-5e), GigaSPEED XL (Cat-6), GigaSPEED X10D (Cat-6A), InstaPATCH 360, OptiSPEED, LazrSPEED (OM3, OM4, OM5), and TeraSPEED products.
In a larger sense, PDS and SYSTIMAX SCS have evolved from a group of parts that were brought together to form the first PDS network, into today's true network solution supporting complex network architectures and applications for the intelligent building, the data center and a series of other networks required by CommScope customers.
What is the significance of the innovation for CommScope?
This was the first structured cabling system on the market and the foundation on which the global structured cabling industry was built. It enabled an entire industry, and CommScope is the clear market leader in the space today.
Related links: