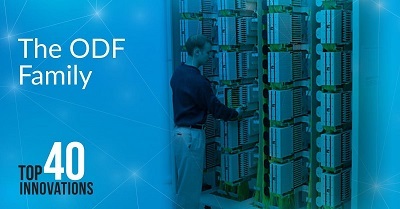 Note: we have been revealing in recent blog posts the top 40 innovations made by CommScope (or one of its acquired companies) as part of our 40th anniversary celebration. We continue today by revealing an innovation from the final grouping of innovations—the top 10—which are being announced in alphabetical order. These are our all-time greatest product and technology innovations. You can also review the complete list of innovations we've revealed so far and read more about the overall program and selection process in this November 4 post.
CommScope's Top 40 Innovations—Grouping 1-10
The ODF Family
Definition: An ODF, or optical distribution frame, is used to provide cable connections between communication facilities, which can combine fiber splicing, termination, adapters and connections in a single unit.
Year of the Innovation: 1995
What is the innovation that CommScope or one of its acquired companies was first in creating?
In 1995, ADC (now part of CommScope) introduced its Fiber Main Distributing Frame, which became known as the Next Generation Frame (NGF). The NGF was the first purpose-built, high-density fiber frame architecture in the North American industry, and it was the first true optical distribution frame that included a comprehensive cable management approach. Leveraging new sliding adapter pack technology and innovative cable management, the NGF allowed customers to reduce floor space while improving accessibility. The NGF drove the industry to update its standard, Telcordia GR-449, to call out the frame footprint and trough interfaces as a requirement for all high-density ODFs. The NGF also included innovations such as fiber terminal blocks, multiple rear troughs and slack storage to provide easy access and fiber protection.
At the same time, Raychem introduced in Europe the first purpose-built, high density fiber frame to accommodate European industry needs. This Raychem product line later was acquired by CommScope. The European industry is based on a European Telecommunications Standards Institute (ETSI) standards footprint, front access only, and back-to-back mounting in combination with on-frame splicing. The Raychem Fiber Infrastructure System Technology optical distribution frame (FIST-ODF) that incorporated single-circuit, single-element splicing in combination with tray patching became in most European countries the de-facto standard.
What was happening in the market that this innovation was needed?
In the early 1990s, central offices and data centers began using greater quantities of fiber as they moved from copper DS-1 and DS-3 connectivity to fiber OC-3 and OC-12 connectivity. Because they needed to terminate thousands of fiber connections instead of dozens, these customers needed a different way of managing fiber. The earliest fiber-handling solutions involved using basic patch panels into a frame, neither of which was designed for easy access. These early solutions took up a lot of space, and it was difficult for craft people to get their hands on a fiber if they needed to clean it or make a change. It was also difficult to manage slack cable, and it was difficult to route cables from one frame to another.
How did this innovation benefit customers and the industry?
With the NGF and FIST-ODF, customers who had been limited to two or three fiber frames and a couple hundred connections could now line up 50-60 bays to manage thousands of connections and create a true cross-connect to centralize fiber management in large central offices and data centers.
During the development processes, the ADC team, now part of CommScope, had multiple meetings with key customers to review design concepts and get feedback that helped the team ensure to include features and functionality that they knew the customers wanted.
Did this innovation act as the springboard for other innovations and, if so, how do they all tie together?
This innovative product made ADC the clear ODF market leader in North America and Raychem the leader in Europe.
CommScope acquired TE Connectivity's BNS division (which included ADC and part of Raychem) in 2015. Since 1995, CommScope and its acquired companies have continually innovated in ODFs, introducing the NG3 in 2003, NG4 in 2012 and FACT in 2016.
What is the significance of the innovation for CommScope?
With its ODF innovations, CommScope and its acquired companies created and standardized a way to manage fiber in central offices and data centers, and are continuing to evolve the ODF family to lead the industry and exceed customer expectations as the market moves forward. Many of the core building blocks of the NGF and FIST-ODF products, such as sliding adapter packs and tray patching, have been leveraged across a broad range of other CommScope fiber termination products.
Related links: