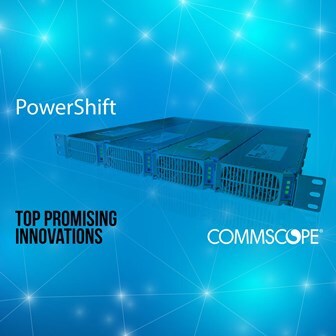 Note: Last year, we unveiled our top 40 innovations made by CommScope or one of its acquired companies. This recognition was part of our 40th anniversary celebration. We are proud of all our innovations—past and present. Now, we look to new innovations that we hope will become the essential building blocks for the networks of the future. In a series of blogs, we will introduce you to our Top Promising Innovations in the world of wireless and fiber optics. We believe these innovations have the potential to have significant impact on the industry, much like some of the others from our past.
Definition: PowerShift is a dynamic power supply solution for cellular networks that optimizes the energy delivered to radio units.
Year of Innovation: 2015
What is the innovation that CommScope was first in creating?
In 2015, CommScope announced a new solution called PowerShift that more efficiently transmits DC power to radio units in a telecommunications network for wireless applications including macro and distributed antenna systems (DAS) architectures. PowerShift intelligently and dynamically ensures that the most efficient electric current is supplied to the radio units. It accomplishes this using technology that CommScope developed with the power supply experts at GE.
CommScope designed PowerShift for modern cell site architectures, where radio units are separated from the baseband units. PowerShift automatically delivers the most efficient voltage to the radios, helping operators re-utilize existing power cable infrastructure, eliminating the need for higher gauge conductors when installing new cabling and increasing the useable length for cables by over four times. It can also extend RF battery uptime by up to 25 percent.
What was happening in the market that this innovation was needed?
As demand for data throughput rises, mobile operators have been increasing the output power of radios to improve coverage and data delivery. Often, the cables used when the original radios were installed are too small to deliver higher power. PowerShift makes it possible for operators to use the existing cables, saving the operator from needing to purchase and install new, larger power cables. For DAS, PowerShift enables all power to be centralized so it is easier and lower cost to provide battery back-up to the system.
How does this innovation benefit customers and the industry?
One percent of the world's energy is consumed by cellular networks, and 60 percent of the power at cell sites is consumed by radio equipment and amplifiers. PowerShift conserves electricity by dynamically regulating the power supplied to radios. It delivers power to radios most efficiently. In addition, it decreases costs for network operators by eliminating the need to rip-and-replace existing power cables with heavier, larger cables, reducing leasing costs and making it easier to run power cables inside buildings for DAS. PowerShift can potentially save mobile operators millions of dollars per year.
What makes this a promising innovation for future networks and customer applications?
With the advent of 5G and other technologies, remote radios require more power to provide the coverage and capacity needed by demanding consumers. PowerShift helps ensure that remote radios get the power they need. PowerShift is primarily used today to power remote radio heads on cell towers and DAS installations, but it can also be used on metro cell and Centralized Radio Access Networks (C-RAN).
What are some of the early marketplace successes for this innovation?
Tier 1 US and international operators are now trialing this solution in their mobile networks. Early trials are validating the cost-savings and speeding the installation of radio-based coverage and capacity solutions. In cell tower applications where remote radio heads are being upgraded, the use of PowerShift can reduce radio deployment time by up to 90 percent.
In one unique case, PowerShift made it possible to install a rooftop cell site that met the property owner's requirements. PowerShift enabled the use of smaller diameter power cables and avoided having to break through walls to install larger cables – something the property owner rejected. Without PowerShift, the property owner would have had to find a new wireless solution.
What is the significance of the innovation for CommScope?
This innovation showcases CommScope's ability to listen to customers and create innovative solutions that solve their problems. PowerShift expands CommScope's footprint in the power supply market.
Does the innovation follow any established industry standards or do you believe it might set a precedent for its own?
PowerShift meets all FCC and UL standards for power supplies, but its uniqueness may foster the creation of a new standard for dynamic power supplies.
How do you see this innovation evolving?
PowerShift will evolve to address more variations in radio powering applications. Over time, PowerShift will be further developed for use with even higher power radio units, and as a centralized power source for distributed configurations like DAS and metro cell deployments.