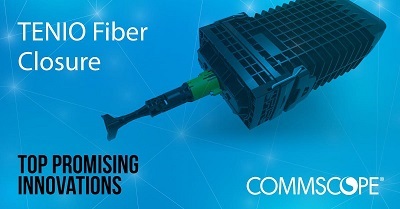 Last year, we unveiled our top 40 innovations made by CommScope or one of its acquired companies. This recognition was part of our 40th anniversary celebration. We are proud of all our innovations—past and present. Now, we look to new innovations that we hope will become the essential building blocks for the networks of the future. In a series of blogs, we will introduce you to our Top Promising Innovations in the world of wireless and fiber optics. We believe these innovations have the potential to have significant impact on the industry, much like some of the others from our past.
TENIO Fiber Closure System
Definition: The TENIO system is a modular gel-sealed fiber closure system designed for use in outside plant fiber access (distribution, drop) networks.
Year of Innovation: 2014
What is the innovation that CommScope was first in creating?
With TENIO, CommScope created a fiber closure system that allows installers to completely remove its outer housings, base and dome, even when cables are installed or when the closure is already mounted. TENIO's tool-less gel-sealed design provides easy installation as well as 360-degree access to the fibers inside, enabling faster installations and improved fiber management. Embracing all above features and being 30 percent smaller to fit existing infrastructure, the total cost of ownership is less expensive than other fiber closure systems.
What was happening in the market that this innovation was needed?
With fiber-to-the-home (FTTH) deployments expanding around the world, fiber deployments have been moving closer to the customer premises. Network operators needed easier, smaller, and less expensive ways to deploy individual fibers to customer premises. TENIO makes it possible for network operators to use lower-skilled technicians to deploy fiber, and saves space in tight environments such as pole mounts and handholes.
How does this innovation benefit customers and the industry?
TENIO's modularity offers a lot of flexibility in the field. It is compatible with most of the commonly available cables, and provides excellent cable attachment and sealing properties. In addition, TENIO is 30 percent smaller than other closures on the market serving comparable functionalities, making it easier to use in tight spaces. TENIO's tool-less installation makes it easier and faster to install, speeding fiber deployments while reducing costs.
What makes this a promising innovation for future networks and customer applications?
In FTTH networks, the fiber count per install continuously increases, and this trend shows no sign of slowing. As networks become denser, operators will need a small, error-free fiber closure system that allows the use of smaller infrastructure and lower-skilled technicians to minimize CapEx and future OpEx. Another benefit to TENIO is it allows technicians to anticipate future cable, fiber and passive devices trends supporting migration path needs in the FTTH access networks.
What are some of the early marketplace successes for this innovation?
TENIO has been sold to more than 60 customers in more than 35 countries. Early adopters were in France and Australia.
What is the significance of the innovation for CommScope?
The TENIO system's patented, modular, gel-sealing technology extends CommScope's lead in the market for fiber closures. The product's gel-sealing technology will be used in other products throughout CommScope's fiber closure portfolio.
Does the innovation follow any established industry standards or do you believe it might set a precedent for its own?
TENIO closure system meets ITU and IEEE standards for FTTH networks.
How do you see this innovation evolving?
CommScope will continue to refine its TENIO system, and will use modular gel-sealing technology throughout its next generation of fiber closure products.