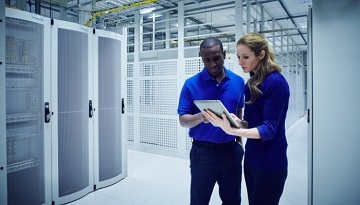 This blog was originally posted in Data Center Journal on July 10, 2018.
Consumers and businesses are driving exponential growth of data services, and data center operators must continue to find ways to deliver higher network speeds. Enterprise data centers must support existing legacy applications while setting the stage for new, real-time applications. A few short years ago, 10 Gigabit Ethernet was the "high-speed" alternative for connected servers, storage, routers and switches, but today's Ethernet roadmap extends from 25 and 50 Gigabit up through 100/200 Gigabit, perhaps even 400 Gigabit. Whatever the industry, the increase in data necessitates innovative technologies and more fiber.
High-speed migration (HSM) is a technology that helps networks deliver more data, allows managers to future-proof their networks and gives them the operational assurances they require. In this blog, we'll look at the need for HSM as well as how to plan for and implement it.
Why HSM?
Data center traffic patterns have changed. Today's network traffic is east-west (in the data center), and it's 10 to 20 times the volume of north-south traffic (to and from the data center). The rate at which demand is growing has increased, and what once supported applications has become inadequate. Now, we all expect immediate delivery of Internet services, and with an exponentially growing demand in service, meeting that expectation will be difficult.
Delivering content or services on a best-effort basis was once okay, but retailers now measure profit in milliseconds. Stock brokers attach even higher value to instant response. Today, a sensor might detect a customer walking near a store and must immediately trigger the delivery of a coupon to the customer's phone—timing is critical. Remote education, medicine and even remote surgery are other applications that also rely on instantaneous, reliable, ultra-low-latency data networks.
The advent of real-time analytics has changed corporate perceptions of the data center. Traditionally, data center managers have focused on network uptime, on making sure services are running and on keeping them secure. The data center has mostly been seen as overhead, but with data becoming the new currency and real-time applications driving the need for lower latency, a well-run data center becomes a competitive advantage. Data center managers whose previous role was simply to keep things running are now charged with delivering higher performance and lower latency to keep the company competitive.
CLICK TO TWEET: Transforming your data center with high speed migration.
What Is HSM?
HSM describes the data center network as it evolves to higher performance and greater capacity. It designs-in high-capacity physical-layer infrastructure systems that will last for many years and takes a fresh approach to infrastructure design, looking ahead to the emergent high-speed optics yet to be deployed in the data center. HSM is a blend of the highest bandwidth and the lowest losses for both multimode and single-mode fiber technology. The HSM platform is an entire portfolio of products all supporting higher-speed data center connectivity with the ultimate configuration flexibility:
Interchangeable 8-, 12- and 24-fiber MPO modules support any application without forcing managers to reconfigure their fiber trunks.
Ultra-low-loss single- and multimode fiber maximize the loss budget—and life cycle—of existing infrastructure.
OM5 wideband multimode fiber enables duplex transmission of 100Gbps and higher over extended distances.
Strategies for Success
The basic challenge for data center managers is to make decisions about changes today that will support different fiber types, protocols and reach distances tomorrow. They must move to an infrastructure that's flexible enough to adapt while keeping costs under control. The following are some important strategies.
Understand the Options and Know Where You're Going
You need a good understanding of the distances and fiber types you're using, as well as how far you must go with how much bandwidth. For example,
I have a small data center. Can I just can go with point-to-point cabling, or do I need reconfiguration and testing points?
What kind of capacity do I need and what growth curve should I expect?
What speeds should I plan for (25, 40 or 50 Gigabit), and what about 100 and 400 Gigabit?
There are many pathways to future network speeds. Recently, multimode fiber (MMF) has seen innovative advancements. For example, OM5 (multimode) fiber added four times the capacity of OM4 fiber while maintaining legacy compatibility. New optic transceivers allow transmission at much higher speeds (100Gbps) over more than 400m of link distance when using OM5 MMF. Supporting higher speeds for longer distances while maintaining a structured-cabling design is challenging.
Much of the decision depends on when you want to start your journey. A few short years ago, 40 Gigabit was considered the next "high speed." But 100Gbps optics have rapidly replaced this technology. The combination of switching and optical advances has now obsoleted 40G applications.
Know Your Cost Structure
Measure the costs versus the benefits of various options, then choose the fiber type and connectivity solutions that cost-effectively accommodate your goals. Cabling vendor calculators can help with this process.
Plan for Flexibility
Design so you have the option to use either 8-, 12- or 24-fiber bundles to right-size the infrastructure at each step on the road to higher bandwidth. For example, if a company has a 12-fiber infrastructure and decides to move to an application that uses only 8 fibers (a 100Gbps 4x25 solution, for example), it should plan a strategy to optimize the use its fiber infrastructure while maintaining 100 percent utilization. The design should have a view to support various fiber types and growth strategies to match future applications. There's no one-size-fits-all solution.
Incorporate Modularity
Choose panels that can accept a variety of fiber modules so that as the data center grows, it will have a common housing and technicians can simply swap modules to move up to a faster data rate. Ideally, the cabling and housings are deployed once, and it's just the end points that need changing to move to faster speeds.
Manage Current and Future Infrastructure
An automated infrastructure management (AIM) tool can provide a clear picture of your infrastructure and help you understand capacities and know where the choke points are. This information allows you to more easily make informed choices and respond quickly to outages, in addition to having a healthier, more manageable infrastructure in the long term.
Know the Migration Time Frame
There's an immediate need, but still the data center must migrate to higher speeds again—sooner than you can imagine, perhaps. Choose a path and vendor that can help you get there sooner rather than later. Given the new, real-time services that demand higher data center capacity, your HSM path should be ready and waiting to answer the call with guaranteed support for optical-network applications that enable capacity expansion. Such guarantees simplify planning and migration strategies while leveraging the investments you make in data center infrastructures. Application guarantees span the entire physical network layer but also focus on the guaranteed support of optical-network links.
An HSM path is inevitable for large organizations, but it shouldn't be a painful, expensive process. Start with high capacity in mind, carefully evaluate options and chart a migration path with the right HSM products. Your data center will become a flexible, cost-effective platform for real-time computing that fuels a competitive advantage in this digital age.
Additional resources: