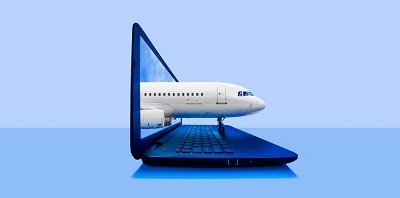 I'm a lean traveler, especially if I'm flying. I wear clothes on the plane that I know I can wear again. I pack my over-the-shoulder purse. I wear slip-on shoes. I have every mini shampoo and lotion known to man. Less is more! But in the last six months as I started to travel much more for work, I began to think less about my physical comfort and more about my virtual comfort.
CNN recently aired a story about the future of airplane travel. And it's all about wireless connectivity. We have Wi-Fi on most flights now, and you can go paperless with your boarding pass. But there's so much more beyond that: services in-flight that you use with your cell phone (80 percent of people have some kind of device with them anyway), virtual reality, and my favorite … the sleeping pods with built-in light and noise preferences.
It got me thinking. What else could I do virtually to make my travel even easier and comfortable? Here's my wish list, however unrealistic (or is it?):
An app that allows me to order an in-flight massage that's waiting for me after boarding.
A heat map by the plane door that shows which bins are filling up with luggage. I'd know before I stepped foot on the plane where my suitcase will fit.
A touch-screen snack service app that allows me to request more peanuts or aspirin that is then delivered right to my seat via a vacuum tube. If a bank drive-through has it, why not a plane?
Better streaming so I can video-chat with my kids – ideally from the aforementioned touch screen on the seat in front of me. It's a good selfie angle.
An IM chat to my hotel to let the staff know when I've landed and when I'll be arriving.
An app customized for my hotel room that starts the coffee, warms the thermostat to my preferred temperature and turns on the TV to my favorite channel (to my desired volume level, of course). The QR code on the app would also serve as my room key. And I'd also order more creamers. Those things are like gold in hotels.
A complimentary umbrella in my room. OK, that has nothing to do with connectivity; I just always forget mine.
SEE ALSO: Times, They are a Changin': Get Used to It!
The bottom line is that a wireless, connected world is certainly a more convenient one. Take a look back at the CNN article's photo gallery from travels past (and some of them are hilarious), and you'll see how far we've come already. There is no doubt that innovative minds are hard at work creating virtual comfort for all travelers.
So what's on your travel wish list? Let us know in the comments.