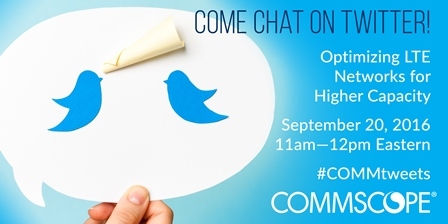 As the wireless industry looks toward 5G, it can be easy to forget that 4G/LTE will be the workhorse of wireless networks for many years to come. Before we reach 5G, mobile operators will continue to be challenged by increases in mobile data traffic. Operators face constant pressure to improve network capacity, enhance network speeds and lower deployment and operating costs.
Helping network operators achieve these goals is what CommScope does daily. To share some of our expertise in adding capacity to LTE networks, CommScope will host a Twitter Chat on September 20 from 11:00 a.m. – 12:00 pm Eastern (4 p.m. – 5 p.m. GMT). Anyone interested in wireless network technology is invited to participate.
Six of our wireless network experts will answer questions live on Twitter. Anyone can ask a question, and we will be issuing these questions from the CommScope Twitter account to frame the conversation:
How are operators adding capacity in LTE networks these days?
What are the biggest challenges of adding capacity?
Of all options, what is the most cost-effective way for operators to add capacity?
How are operators currently densifying their networks?
How can operators overcome the challenges of power, backhaul and site acquisition when adding sites at the street level?
How does the C-RAN architecture impact wireless network infrastructure?
What is the status of regulatory initiatives to make more spectrum available?
How can operators best support new frequency bands, including unlicensed, for LTE and LTE-Advanced?
How is interference being managed in LTE networks?
What are operators doing to ready their networks for 5G?
To get involved, log onto your Twitter account on September 20 at 11:00 a.m. EDT. Search for the hashtag #COMMtweets and follow the live stream. The CommScope Twitter account will introduce our network experts and issue the first question. Feel free to tweet a question or join the conversation at any point.
Our participants will be network engineering experts Ray Butler, Mike Wolfe and Pedro Torres; spectrum guru Mark Gibson; antenna expert and strategic marketing leader Philip Sorrells; and strategic marketing manager Jeff Epstein.
Come join the Twitter chat on September 20 at 11:00 a.m. EDT to get the latest insights on optimizing LTE networks for higher capacity.