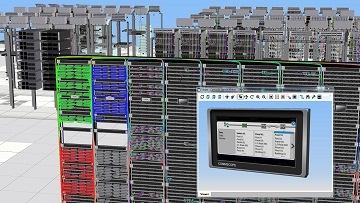 Sometimes our imagination is not enough to fully picture a hypothetical scenario and understand the full significance of it. For example, what if you are planning a home improvement project to demolish a couple of walls to make the living room larger. The architect usually produces updated floorplans and drawings in 2D and if they are cutting edge, they may even be able to show you a 3D layouts trying to capture the final result. But the best way to really feel and experience the new living room is to walk around it, see the new space and picture how furniture can be placed. One of the only ways to do this until it is actually built is through virtual reality (VR).
CLICK TO TWEET: Virtual reality can improve your infrastructure management. CommScope's Sergio Uribe explains in this blog.
Using VR, your current house with the planned changes can be created in a simulated scenario in 3D experience and using special glasses and controls for your hands, you will be able to enter in the architect's view of your new living room, giving you the opportunity to walk, touch and feel the space like you were actually in your new living room. Having this fantastic tool, you will be better prepared to make decisions regarding this important project. In other words, virtual reality helps you to see stuff that is not there, so you can imagine how it's going to feel to be there.
There are similar VR benefits that could be realized in the business environment as well. For example, when evaluating new products or technology it is very helpful to get first-hand experience with using a product prior to making a purchasing decision. With VR, a user could immerse into environment that simulates various use cases, enabling users to experience ability of a product for solving real time pain points virtually and therefore providing valuable understanding about the product benefits.
At a recent partner event, CommScope used a VR experience to show how difficult it can be to locate an IP device in a building using the typical infrastructure documentation versus how easy it can be using imVision. The demonstration starts with the VR head and hand tools to immerse you into the situation. It appears that you are comfortably sitting at the IT manager's desk with two large screens in front of you and a keyboard. Suddenly, you are prompted that an IP device is infected by a virus and you need to locate it in order to manually fix it. The experience takes you through the usual steps to locate the device while a timer is keeping track of the time until you finally get the device. During the conference, this VR demo for the manual process took more than seven minutes. The next experience starts in the same way only this time you will have the help of the imVision solution to find the infected device. For the second demo, the person was able to locate the device in only one minute.
Check out the imVision VR demo for yourself. It will help you realize why you really need to improve your infrastructure management and why imVision is definitely the best way to do it.