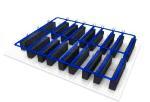 Data centers are critical to the IT operations of most organizations, playing a key role in storing and accessing information used to run the business. Whether you operate a dedicated data center inside your organization or provide co-location services to customers through the cloud, CommScope's Living Infrastructure approach provides the infrastructure needed to support your network's current and future requirements.
This topic will be part of the Graybar Webinar Series and I'm proud to be participating in this series. My webinar, Data Center as a Living Infrastructure, will be held on Thursday, August 16, 2012 at 10:30 a.m. CDT.
This webinar will discuss the Telecommunications Infrastructure Standard for Data Centers (TIA-942) which was published in 2005 and was updated last year. This broad set of guidelines provides the basics for "standardizing" data center operations; however, it leaves too many options for variation. Furthermore, electronics and systems providers continually provide architectural considerations to improve efficiency and operation based on the multitude of applications in the data center. As a result, replicating the most effective data center designs can be virtually impossible.
In my opinion, a more reasonable approach to data center development starts with basic building blocks (or pods). These pods can be replicated, based on the size of your data center and likely structured cabling requirements. To begin, you'll look at the data center as a whole and break it up into areas connecting the core to the aggregation and the access to equipment. Within each area, the advantages and considerations of various local architectures will lead you to a particular design type. Implementation requires a full set of equipment to make up each pod. This includes the cabling and apparatus that makes up the structured cabling, as well as the equipment cords that can be connected to the actives.
Of course, I'll discuss more in my webinar. So, I encourage you to sign up for my webinar. Please click here to register.