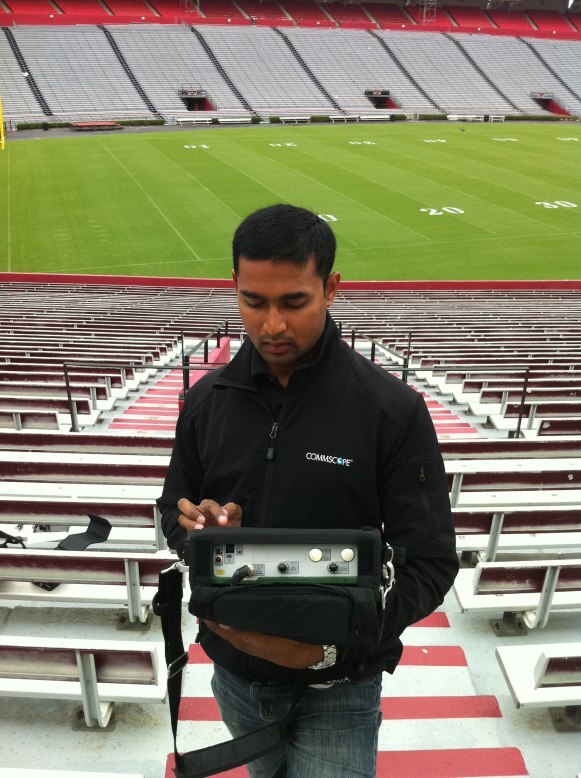 It is almost football season here in the U.S. for both college and professional teams. Of course, I mean American football, not the ball-kicking sport we call soccer that everyone else calls football. I mean football with the oblong ball, the shoulder pads and helmets, and the big guys tackling each other.
As you might imagine, most of our engineers here at CommScope are not the football types.
They are more brains than brawn, more decibels and signal-to-noise ratios than passing downs and two minute offense (to use some football terms). But despite their collective inability to rush a passer or convert a third down (more football terms), CommScope's RF engineers are playing an important part in the upcoming football season.
These wireless systems engineers have been busy deploying new and/or upgraded distributed antenna systems (DAS) in about 30 U.S. football stadiums over the last year or so. That might not change much about the football games being played, but it greatly impacts the success of the game for the fans in the stands. As wireless operators and team owners know, hosting a successful football game—or cricket, rugby or basketball match or any popular event, really—involves more today than just getting two teams on the field. Preparing for the massive spike in mobile data usage when tens of thousands of fans gather in one location is also extremely important.
That is why so many stadiums have been moving to install or upgrade a DAS. A DAS increases capacity by sectorizing the stadium and off-loading capacity from the macro network. A properly deployed DAS solution enables fans to continue posting photos to social media outlets, texting and calling friends, and utilizing apps as part of their overall experience. That is why our DAS engineers have been busy in so many U.S.football stadiums. Some of the sites are investing in a DAS for the first time. Some are upgrading their existing DAS to handle next generation LTE technology.
If you are interested in learning about CommScope's latest DAS solution, the ION-U, check out this webinar replayin which I explain and answer questions about it.
For you football fans in the States, I wish your team a successful season. For those of you lucky enough to be attending games this season, here's wishing you an enjoyable wireless experience, too. If your favorite team has invested in a DAS for their stadium, you should have no problems.
I'll end with a fun question—who's going to win the Super Bowl this year?