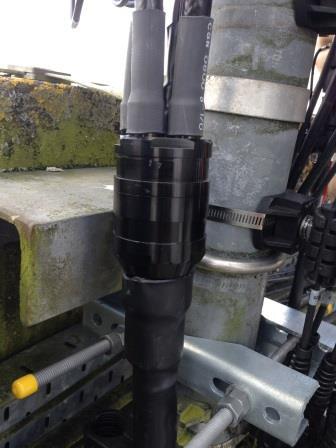 The difference
one day
makes can be big. Think about the difference between working six days a week and seven days a week. Having at least one day off for relaxation makes a
major difference
in overall wellness and productivity when back on the job.
One day also made a big difference for a
European network operator
when they trialed our
HELIAX FiberFeed Direct
power and fiber solution. HELIAX FiberFeed Direct was able to
shave one day off
of the planned installation time for the operator. If you multiply one day of labor and installation costs across all the sites in a network, that adds up to a
tremendous savings
. That's part of the reason why the operator approved FiberFeed Direct for use across all of its sites globally.
So how does FiberFeed Direct speed up installation time? It delivers speed, simplicity and performance by directly connecting the remote radio unit (RRU) to the baseband unit with a universal trunk cable and pre-terminated fiber tails. A virtual plug-and-play hybrid breakout system, FiberFeed Direct supports nearly every RRU make and model and only requires the deployment of one cable for up to nine RRUs.
Integrating a canister breakout design and pre-installed connectors, the hybrid power-fiber cable eliminates the need for a junction box while accommodating a multitude of RRU interfaces through a radio matching fiber tail and (where required) a power jumper kit. Configurations are scalable and can accommodate 18 or more RRUs and ease future RRU upgrades when cables are installed for each sector.
In addition to the benefits inherent in the cabling itself, CommScope offers a robust PartnerPRO Network and broad deployment capabilities to help streamline the installation process. Our approved, accredited partners possess the training to ensure the highest level of support. Their consultative services can support every stage of deployment—from initial site identification and survey through installation to commissioning and snagging. Use the Partner Locator to find one near you.
Want to learn more about what the move to fiber-to-the-antenna (FTTA) entails? Check out this recent article about FTTA in OSP Magazine written by CommScope's Mike Guerin. You can see some photos of the FiberFeed Direct installed.
Any questions about the FiberFeed Direct or deploying fiber-power cabling generally?