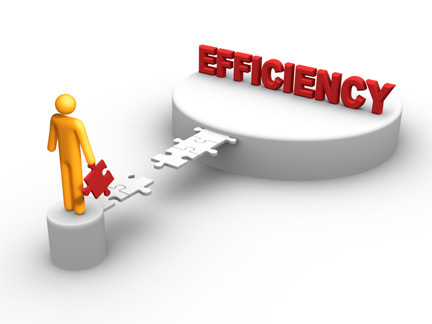 When it comes to the data center, there are many opinions and theories about what it will take to make it more efficient—most centered on optimizing the power it takes to run that part of the business. Efficiency in the data center is more than just a
power usage effectiveness
(PUE) value; it's making the best use of all available resources. According to an April 2014
IDC report
, data is growing at a rate of 40 percent a year. Without an equivalent increase in IT budgets, data center efficienc
y is becoming more imperative.
Virtualization has gone a long way towards increasing efficiency in the data center, considering that applications that used to reside on a whole 42-unit cabinet of servers are now routinely deployed on a single server, freeing up assets and space. A few years ago, the industry saw this as a significant improvement in resource utilization and increasing data center efficiency. Today, it is taken for granted and considered only a starting point.
To drive further efficiencies in the data centers, new tools are required as capacity planning becomes more critical. Without a holistic view of the data center and all of the individual systems that are interconnected, it's a real challenge to manage its space, power, cooling and other resources.
With regards to power, it continues to be the main operating expense in the data center and it doesn't look as if it will be slowing down any time soon. Even with the relatively short economic life of today's servers, studies have shown that more money is spent powering servers than what was originally spent to purchase them.
Managing power efficiency without a view of the other resources in the data center places limits on how much efficiency is driven. New solutions, such as data center infrastructure management (DCIM) and purpose built data centers, are available to help with these challenges.
A holistic DCIM software suite goes far beyond simple power management. It provides capabilities to reduce energy costs by cutting overall power consumption and limiting idle or low-activity servers, freeing up power for additional assets and maximizing capacity within the existing footprint to extend the life of the data center.
Purpose built data centers are an effective way to quickly deploy a data center to suit the needs of organizations without service disruption. They offer a yearly PUE as low as 1.03 to 1.06 and can be customized with off-the-shelf options such as DCIM and LED lighting.
LED lighting is another efficiency tool that can be used with network intelligence to help address power usage without affecting availability. Deploying an LED intelligent lighting solution, powered by low-voltage direct current through structured cabling with a high-density sensory network, can help data center managers realize a savings of up to 90 percent on energy costs.
Do you think your data center can be more efficient? Do you want to learn more about the latest tools to help combat the pressure of trying to optimize space and power? Feel free to leave a comment below or click here to receive more information on what makes an efficient data center.