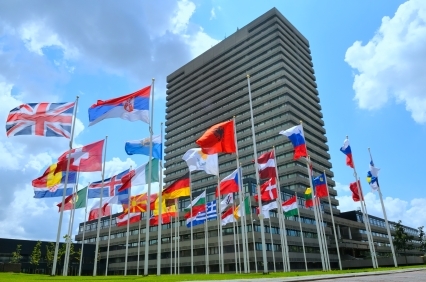 Today's smartphones pack a lot of computing power in a small package and easily outperform laptops of just a few years ago. Moreover, their permanent connectivity to the mobile network means that smartphone users almost never disconnect from the Internet. They also use the mobile for social networking. People like to share their experiences directly with friends, uploading the latest picture from a soccer match or concert to the Internet. They like to go online at any place and time. Data traffic generated by smartphones will have the highest growth. Cisco predicts in their VNI Mobile Forecast 2013 that smartphones will generate 67.5 percent of data traffic in 2017.
A large percentage of smartphone traffic will be generated in office buildings, industrial parks, sports arenas, and shopping centers. These sites require the specialized capacity boost that a distributed antenna system (DAS) can provide. This is why DAS deployments are currently skyrocketing in the US, with no clear end in sight. I expect that Europe will follow this trend in the near future as LTE networks expand across the region.
The volume of DAS implementations in Europe will challenge mobile network operators when compared against typical project schedules and the lack of highly DAS skilled resources such as design engineers, installers, technicians. Current DAS networks are not standardized, making it difficult for operators to accept them for high volume rollouts. The deployment can be an exercise in extra expenses, longer time to market and delayed return on investment.
To become the preferred solution for special coverage, new DAS designs have to address the challenges the market will face:
Low availability of DAS expertise
Tightened budgets
Need for fast project implementation (time to market)
Expanding or reconfiguring after installation
A DAS has key advantages such as multi-operator, multi-frequency and air-interface standard flexibility to address these challenges and stay a preferred solution. A DAS can also be a potent solution for small cell implementation.
CommScope recently announced its new ION-U DAS platform, which solves many of the DAS implementation problems. The ION-U reduces design time by offering integrated web-based design tools. It reduces installation time and error trouble shooting by including software-based guided installation. It reduces test equipment CapEx and system setup time by building in signal generators and automatic end to end system leveling. The ION-U will deliver shorter time-to-market implementations, using less skilled DAS personnel. Finally, to protect the investment, CommScope's ION-U supports easy expandability with our configuration tools and on the fly reconfiguration through the sector matrix.
Have you tried to deploy a DAS yet? Do you see evidence of DAS expanding in Europe?