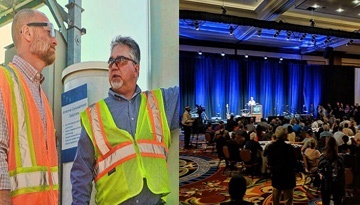 (Note: The following has been submitted as a guest post to CommScope Blogs by Craig Lekutis, Publisher of WirelessEstimator.com. Opinions and comments provided in this guest post, as with all posts to CommScope Blogs, are that of the author and do not necessarily reflect the views of CommScope.)
In 1999, a 60,000 square-foot helicopter guidance chip manufacturing facility was being transformed into a manufacturing plant for antenna and line support products along with enterprising co-location mounting frames.
CLICK TO TWEET: Guest blog author Craig Lekutis highlights what a difference a couple of decades make in the wireless industry.
Three years earlier in 1996, the National Association of Tower Erectors (NATE) held its first conference with a respectable 223 participants who were determined to elevate the safety of wireless infrastructure workers.
Last month in Texas, CommScope and NATE proudly displayed what a difference a couple of decades can make. On my way to CommScope's sprawling 11-acre facility in Euless, Tex. to take part in a tour that was being held so that FCC Commissioner Brendan Carr could learn of the exacting ISO standards, technology and production equipment that is required to produce the street furniture and other structures necessary to roll out 5G, I recalled my first visit almost two decades earlier.
At that time, Plant Site Manager Kevin Paswalk was directing the ambitious expansion of the facility to meet the growing demand for co-location products and customer integration fulfillment needs. For someone who had never been in a manufacturing plant, it was truly interesting to see how workers in five welding booths, one saw operator and a turret punch and break press operator could turn out precision products so quickly.
Almost 20 years later, that interest turned into amazement as I witnessed the technological advances at the CommScope facility. Four work cells with robotic welders, laser cutters and other equipment were humming along with loud rhythmic sounds made by seemingly endless break presses and punch equipment within the plant's 250,000 square feet under roof.
Commissioner Carr was also taken in by the expansive facilities that started with 30 employees during a single shift to over 180 employees today that are required for the 24/7 operation. He said that CommScope was playing a critical role in making the transition to 5G and assisting the nation to be able to enjoy the economic benefits and opportunities that 5G will provide. During the tour, Paswalk, who is still enjoying the challenges of continuing to expand the plant, said the facility currently processes close to 1.8 million pounds of steel a month.
NATE's record attendance eclipsed expectations
Later that evening, Commissioner Carr was a keynote speaker at NATE UNITE 2019 in Grapevine which saw a record number of attendees. FCC Chairman Ajit Pai was also a keynote speaker at the event that has become the premiere wireless infrastructure show.
I recall the first conference in 1996 in Orlando that saw an impressive attendance of over 200 people and approximately a dozen exhibitors standing behind folding tables in a hallway as they distributed mostly dog-eared black and white brochures. Like CommScope's remarkable transition, NATE's event dwarfed its first Orlando conference with over 2,000 attendees and a packed exhibit hall with approximately 130 exhibitors, representing a who's who in the industry on the service and supply-side chain.
There were also 22 educational topics and skill-building sessions, receptions and a host of other activities that provided excellent networking opportunities and a comradeship seldom achieved at industry conferences. Next year's show, the Association's 25th, will be held in Raleigh, and it's likely that it will be a sellout event