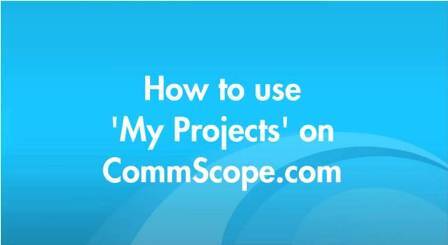 When I'm shopping on line I first like to research what I plan to buy. That's what many people do when they come to
www.commscope.com
. One of the most frequent questions people ask about our website and the
Product Catalog
is
"How do I create a custom product catalog?"
This can be done easily using our
"My Projects"
feature on the website.
To make things easier for you, a video was developed to use as a step-by-step overview of that process—from registering and setting up an account on "My CommScope" to the finished document. The video also serves as an introduction (or refresher) in navigating our website and product catalog, as well as using the smart filters. In addition, it includes several other features that you may not be aware of:
How to create and add items to a project
How to edit and update a project
How to export a project to an Excel spreadsheet
How to export a project to a custom product catalog
How to submit your project for a quote request
Also, a complete video is available, as well as three short, customized versions segmented by topic:
These videos can be found on our YouTube channel and in our Resource Center where we have other website video tutorials for you to view. Please note that our next video tutorial will be on how to use WebTrak.
I welcome your feedback on My Project features and for suggestions for new tutorials. Please use the comment section below.