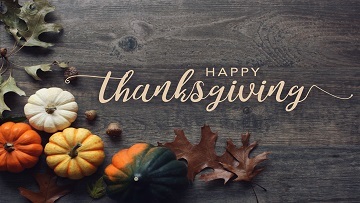 Giving thanks is universal and practiced continuously, whether informally or via a celebrated national holiday as in the US and Canada. No matter where you live or what you do, expressing gratitude is good for your well-being.
In that spirit of giving thanks, we asked several colleagues and partners from across the global information and communications technology industry the following question: "As a member of the ICT ecosystem, what about this industry, or your role in it, are you grateful for?"
A sampling of their responses follow. After reading theirs, feel free to leave a comment as to how you would answer that question. And one more thing—we give thanks to you for following the CommScope blog and reading our many posts!
CLICK TO TWEET: Do you know what the tech industry is most thankful for? CommScope shares them in this blog.
"In the midst of a period of Ethernet innovation never seen before, with a number of emerging standards and technologies ready to debut, I am thankful for the individuals who take these concepts to reality. While much can be said about their technical prowess and commitment, it is the passion with which they approach solving these problems that leaves me in awe."—John D'Ambrosia, chairman of the board, Ethernet Alliance
"The explosion of wireless connectivity is changing lives for the better across the globe in a variety of ways, from the small business woman who can use her smartphone to conduct business to the student who can research a science project on his or her tablet to activists using Twitter to try to improve society. Wireless infrastructure is the foundation for all that productivity. It's a pretty big deal, and I am grateful to be part of the community deploying that infrastructure."—Tracy Ford, executive director of Member Services, Wireless Infrastructure Association
"I'm grateful to work for a company that's not only using its innovative network to connect millions of customers to the things that matter most, but also striving to close the homework gap for a million high school students lacking Internet access at home through Sprint's 1Million Project." – Dr. Ron Marquardt, vice president of Technology, Sprint
"I am grateful for fiber, data centers and interconnection allowing me to watch "Home Alone," "Planes, Trains and Automobiles" and "National Lampoon's Christmas Vacation" anywhere at any time. 'That there, Clark, is an RV.'"—Steve Abraham, senior manager of Infrastructure Services, Equinix
"I am grateful that mobile technology has enabled the global society to push for social, political, and economic changes that somehow improve humanity for future generations."—Earl Lum, president, EJL Wireless Research
"We as an organization are grateful for the BICSI membership and volunteers. BICSI would not be the great association that it is today without our volunteers who tirelessly continue to create the industry body of knowledge which we distribute to the ICT community. Our members and volunteers continue to uplift and bring to the forefront both the ICT profession and our association. In return, we are grateful to continue to serve our members wherever possible to assist in these efforts."—Brian Ensign, president, BICSI
"As we prepare for the 5G era, I'm grateful that so many industry partners are coming together to drive the change required in current 4G networks that will ensure 5G is a huge success! At Small Cell Forum, we are grateful for our many partners who collaborate to find practical ways to deliver robust 5G networks."—Sue Monahan, chief executive officer, Small Cell Forum
"The Infrastructure Masons organization is thankful for our first full year of operation, and for the wonderful support of our founding partners, our advisory council, our members, and our industry partners as we create a professional association focused on the builders of the new digital age. We're thankful for the chance to work on great challenges like the need for more people, more diversity, more education, and more awareness of the infrastructure industry."—Mark Monroe, executive director, Infrastructure Masons
"We really value the fantastic efforts by our hard working and passionate team and the collaborative relationships we have built with our customers, franchise partners and suppliers. Thanks to all our friends across the wireless infrastructure sector."—Alastair Davidson, strategy director, Wireless Infrastructure Group
"I've been a member of the ICT ecosystem for a quarter century now, and I'm continually grateful for the opportunity represented by the industry. My first network was a 1MB/sec coax (Thicknet/Thinnet) effort that was the marvel of the business community. Over time, we've pushed that bandwidth to 100GB/sec, and delivering on the promise of an on-line culture and economy that wasn't on anyone's drawing board in 1991. So my gratitude is for a dynamic, growth oriented industry that enables me and my company to grow, to thrive and to provide jobs for hundreds of local teammates, throughout the most tumultuous economies in history. Our manufacturer and distributor partners provide quality product, outstanding R&D support, and great logistics to support our clients."—Al Saxon, senior vice president of Sales and Marketing, Vision Technologies
"Feeling grateful for the opportunity to be part of the successful wireless industry ecosystem and its progress from 2G through 4G LTE, and now to 5G in my role with 5G Americas. So grateful for the ability to serve as the voice to progress industry standards, regulatory policy and technical advancements for so many leading operators and manufacturers, including CommScope, to make our world a safer place, our society more connected and our futures so bright."—Vicki Livingston, Head of Communications, 5G Americas
"With broadband becoming ever-present in many people's everyday lives, ICT creates opportunities for teachers, students, doctors, employees and businesses around the world. The desire to communicate has always been there and we're grateful for the opportunity to supply the technology that makes this possible."—Peter Pearson, managing director, Cablelines Pronet Ltd.
"Over the last 25 years I have been fortunate enough to have worked with some very talented and like-minded people, from which I have learned a great deal about the ICT world as well as life in general. Success in this industry has also gifted myself and my family many of the finer things in life and for this I am truly grateful." – Jeff Wakeling, Head of Physical Infrastructure, Computacenter