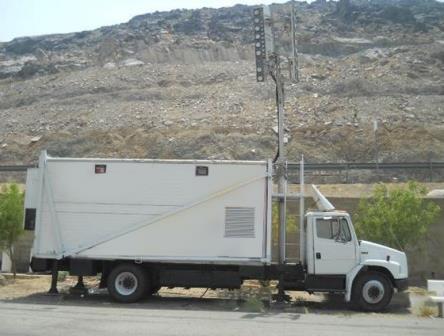 A cell on wheels, commonly called a COW, is a temporary cellular site deployed by wireless operators to meet short-term network traffic demands. Operators in the Middle East and North Africa often use COWs to speed up the deployment of new sites while the network macro sites are being planned and constructed. Due to the ever-present difficulty in acquiring space for cell sites, these COWs often become long-term additions to the operator's wireless network.
So what should an operator do with these semi-permanent sites when it is time to modernize the rest of the network? COWs have particular space and weight limitations because they are essentially a cell site on a truck with a thin pole for a tower. Adding more equipment to introduce the next generation of wireless technology might not be feasible. That is why CommScope offers a filter solution specifically for COW applications that makes adding new technology with the same or less equipment possible.
Our COW filter solution enables operators to upgrade their networks with up to five different radios, utilizing only one four-port antenna and two feeder cables per sector. That is a likely reduction of feeder cables from ten to two and a reduction of antennas from five independent antennas to one four-port antenna. The COW filter solution provides a cost-effective alternative that simplifies site configuration while optimizing performance and filling in much needed coverage and capacity that translates into an additional revenue stream for the customer. It is an end-to-end customizable solution, capable of supporting multiple bands such as GSM900, GSM1800, UMTS2100, UMTS900 and LTE1800, for example.
A typical CommScope COW filter solution that combines five radios would consist of:
Twin Triplexer 900/1800/2100
Dual Band TMA 1800/2100 F12 2:4 1AISG 1>4
4-port Andrew® Dual Band Antenna, 824–960 MHz and 1710–2180 MHz, 65°horizontal beamwidth, fixed electrical tilt, only 7.5 kg
LLC900 single unit filter, re-tuned to customer spectrum frequency bands (for combining UMTS900 with GSM900)
LLC1800 twin unit filters, re-tuned to customer spectrum frequency bands (for combining LTE1800 with GSM1800)
So when it is time to add LTE to your network, keep your COWs in mind. They need upgrading, too, and with a COW filter solution, deploying a more efficient architecture is possible.
How many COWs do you have on semi-permanent status in your network?