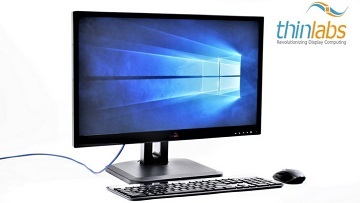 (Note: The following has been submitted as a guest post to CommScope Blogs by Ravi Ramanuja, general manager at Thinlabs. Opinions and comments provided in this guest post, as with all posts to CommScope Blogs, are that of the author and do not necessarily reflect the views of CommScope.)
The popularity and widespread adoption of Power over Ethernet (PoE) continues to grow. PoE describes a system to safely transmit electrical power—along with data—to remote devices over standard Category 3 and higher Category cabling. PoE is designed so Ethernet data and power signals do not interfere with each other, thereby enabling simultaneous transmission without signal disruption.
The obvious advantages of PoE computers are many – there is no need for electrical wiring at point of install, it is safer to provide power over low voltage Ethernet cabling, the time to install computers is reduced and the computers use less energy, thereby improving carbon footprint significantly.
CLICK TO TWEET: Do you know the benefits to deploying PoE computers? Ravi Ramanuja from ThinLabs explains in this blog.
Energy consumption in Asia, the Middle East and Africa Similar to what we're seeing across the globe, countries across Asia, the Middle East and Africa require more energy efficiency and less energy consumption. In terms of electricity, some markets aim to migrate to 'green' power and reduce energy consumption. Other countries may not have adequate electrical resources or consume as much energy.
By design, PoE computers use less energy than a standard computer – the components are more energy efficient and the direct current (DC) is transferred directly from the switch with no losses due to conversion (AC to DC via a power adapter for example). Here are ways in which PoE computers can contribute towards a more energy efficient future:
• Reduced power: PoE devices use little power – the maximum power used by our 22 inch desktop is under 30 watts which is about a quarter of that used by standard desktops
• Easy back up: With lower power consumption, less backup capacity is required, translating into greater uptime for the same capacity
• Enhanced power & cooling: Heat is generated by all IT equipment. Facility managers and designers take into account this heat while calculating HVAC capacities and suitability.
Temperatures across the Middle East and Africa tend to be high which means cooling office space can be costly. PoE computers will generate much less heat than standard devices, allowing for lower cooling requirements and lower energy consumption.
The calculations above can be done for specific scenarios and an exact total cost of ownership can be drawn up for individual organisations and their circumstances.
PoE computers not only reduce costs and speed up installations but are considered 'green' by consuming less electricity and heat. They are the smarter choice for organisations in the Middle East, Asia and Africa.
To learn more, view our joint webinar by registering here.