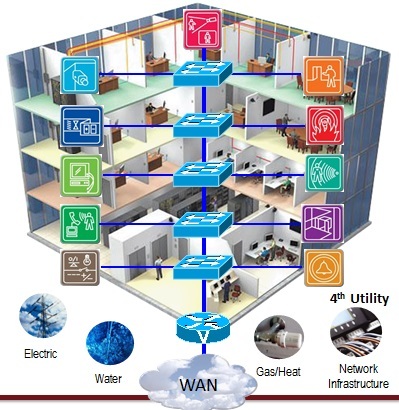 Traditional methods that
architects
and
engineers
use for designing
intelligent buildings
are becoming obsolete—especially when it comes to planning for building automation systems (BAS) and IT infrastructure requirements. Utility services such as lighting, heating, air conditioning and other facility controls now often use the same
network infrastructure
as telecommunication networks (internet, telephony, etc.). This
converged
IT/building management infrastructure can reduce equipment and labor costs and speed implementations. But it also requires a new way of thinking throughout the network infrastructure design and implementation life-cycles.
Designing disparate systems for facility management and telecommunications complicates the implementation of Building Information Modeling (BIM) and Construction Operations Building Information Exchange (COBie), which can increase material and labor costs. Transmitting IP-based facility management system data requires the same robust network infrastructure solution as the intranet/internet services inside a facility. But conflicting international standards can make planning and designing the infrastructure implementation difficult. Plus, smart space utilization, the use of sensory networks, and new Internet of Things (IoT) initiatives make establishing a truly intelligent facility difficult.
Using a converged physical layer infrastructure solves a lot of the problems. It simplifies the commissioning, operation and maintenance of IoT and bring your own device (BYOD) equipment. Converged infrastructure also reduces the complexity of physical cabling, the cost of materials, labor and future modifications, and provides a higher return on investment.
Intelligent facilities are expected to be energy efficient and future proof. They are also expected to provide a positive return on investment and a lower cost of ownership. These are tall orders, and can even seem at odds. There are many challenging factors that undermine the usefulness of traditional practices for planning, designing, constructing and commissioning the facility. Overcoming these unforeseen complications requires the integration of facility and IT design strategies early in the project life-cycle and throughout implementation.
To learn more about the value of a converged IT/building operations infrastructure, attend my CommScope Intelligent Building Solutions presentation at the Society of American Military Engineers (SAME) Joint Engineer Training Conference (JETC) in Phoenix, Arizona on Thursday, May 26 from 10:30–11:30 a.m. in room 128A.
You can also download the CommScope Connected and Efficient Building white paper in advance. If you have any questions, leave me a comment.