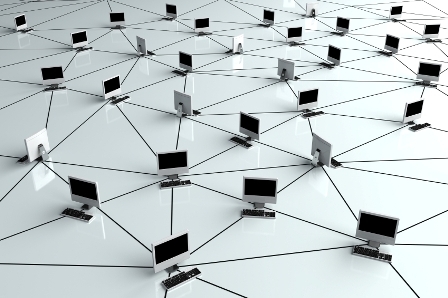 As the U.S. Department of Defense (DoD) and other government agencies strive to reduce capital and operational expenses associated with new and existing network infrastructure, they are increasingly looking to Passive Optical Networks (PON) to meet those challenges. The DoD is researching the viability of PON for a triple-play architecture (data, video and voice) that will improve network performance and reduce the overall life-cycle cost to maintain and operate over the same fiber optic cable media using coarse wavelength division multiplexing (CWDM).
PON meets the demand for reducing capital expense in network switching equipment and supporting cabling infrastructure. Fewer active network components result in reduced operating expenses for the powering and cooling of those devices as well as a reduction in space requirements for housing distribution layer switches contributing to overall life-cycle cost savings. PON is a highly-scalable point-to-multipoint fiber-to-the-premises (FTTP) network architecture that uses optical splitters allowing one strand of single-mode optical fiber to serve multiple users. The active equipment supporting a PON is the optical line terminal (OLT) and the optical network units (ONUs), also referred to as optical network terminals (ONTs), providing the end-user interface. Unlike traditional distributed Ethernet, PON uses single-mode fibers originating from OLT ports to passive optical splitters connecting to the ONUs. The fiber and passive components between the OLT and ONUs is often simply referred to as the optical distribution network (ODN). Splitters are most often deployed in telecommunications closets or distributed in a zone cabling system impacting the cable plant.
A concern when deploying a PON network and ODN within a secure DoD network is information and system security. When a protective distribution system (PDS) is needed, there are two options available: hardened and/or alarmed. These are compliant to NSTISSI 7003 standards. In a traditional hardened PDS, the cable media is protected from tampering or tapping by rigid steel conduit or raceway systems epoxied at the joints and junction points. This type of PDS has a requirement for regular inspection to ensure that the hardened pathway has not been tampered with or breached.
Alarmed carrier solutions deployed to support secure PON networks, (secure PON [SPON]), are rapidly gaining acceptance. SPON eliminates the need for daily inspections by continuously monitoring for tampering, thus freeing up personnel for other assignments. The components of an alarmed carrier consist of a monitoring controller; usually rack-mounted in a secure communications room, the monitoring software provides the analytics and the interlocking armored fiber, secure fiber splitter and distribution boxes that make up the SPON ODN. The cable and passive components of the ODN must have site certification from the Certified TEMPEST Technical Authority (CTTA) for use.
After receiving approval for use by the CTTA, a CommScope interlocking armor fiber solution and connector were used to support the secure PON ODN portion of a recent US Army project in Arizona. In February, CommScope participated in the Igniting Innovation 2015 Showcase and Awards event sponsored by the American Council for Technology—Industry Advisory Council (ACT-IAC). The SPON solution demonstration was a Dynamite Award winner in the most disruptive technology category. A fitting award, although not new, PON is changing and impacting the network solutions market place.
In addition to supporting traditional Ethernet networks, CommScope offers a complete PON solution, both passive and active. With solutions supporting both EPON and GPON and scaling from 1G to 10 G, it can provide flexible deployment and performance options. More information on these solutions is available in the CommScope whitepaper, Knowing When to Deploy PON for Federal Applications.
Are you looking to deploy a secure triple-play architecture?