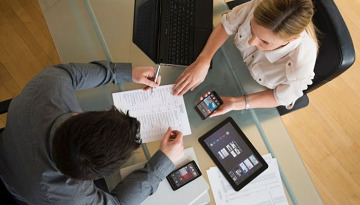 Nearly 80 percent of millennials say that their working environment is more important than their salary. Yet according to research from our technology partner CommScope, despite this, nearly half of UK office workers admitted having to step out of the building to make a phone call or access 4G data services on their mobile device due to a lack of coverage indoors.
CLICK TO TWEET: ExcelRedstone's Ian Smith explains why we need a new approach to first-class connectivity indoors.
Alongside the influx of devices, employees are using sites such as Facebook, Twitter and YouTube to access news and content professionally, as well as personally. As the lines between work and our personal lives continue to blur, employees want to work for an organization that considers itself forward-thinking and prepared for such change.
Catering to Future Generations
A large number of our clients have a high volume of visitors to their offices and put a significant emphasis on customer experience, workforce well-being and improving productivity. For them, the provision of mobile connectivity is a baseline requirement.
We're also seeing this in higher education where students and faculty have been bringing their smartphones to work for some time of course – and, today, tablets and other smart devices have become indispensable tools in research and education. Faculty and support staff alike expect a flexible and inspiring experience that caters to the needs of the modern student. Mobile connectivity, once a luxury, is now essential.
The good news is landlords are starting to fully understand the impact they have on their tenants' connectivity capabilities both for mobile and wireless voice and internet provision. Companies like ExcelRedstone offer neutral host infrastructure services that can support all major mobile service providers, for consistent, high-quality coverage across a range of facilities, including enterprise and higher education sites.
Configuration, ongoing monitoring and management functions can be dealt with by ExcelRedstone and each individual operator, according to the requirements of each party. This flexible business model eliminates one of the in building cellular industry's greatest obstacles to adoption, as we take on the wider role in service delivery. This provides a vibrant new business model for mobile connectivity indoors.
It's a win-win for everyone as the operators can prioritize customer innovation, we take care of the management and maintenance of the technology deployed, whilst the business or facility accommodates future generations of technology and peak user demands.
To uncover more examples of operators trusting their subscribers to systems deployed and managed by neutral hosts such as ExcelRedstone, come chat with us during Small Cells World Summit in London, 21-22 May.