The railway industry is healthy and positioned for future growth. You could feel this excitement at the InnoTrans 2012 trade show held recently in Berlin, Germany. It was a massive show, which is not exactly the feel in some other industry sectors these days.
Railway transportation is a hot industry. Ironically, the oldest means of mass transportation is the transportation mode of the future. Trains are comfortable, silent, green, efficient, and take you right into the center of the best cities of the world. This is the opposite of the feeling that plane travel is increasingly conveying.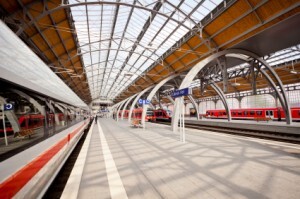 An important element of the overall train traveler experience is wireless connectivity. A combination of good 3G and Wi-Fi service on board is a key part of addressing users' multiple interests: information-entertainment, social media, business communications and tourist information. Railway operators often offer segmented tariffs and packages depending on the traveler's needs.
Train manufactures are also factoring wireless connectivity in their value propositions for the new generation of trains. I was impressed at the presentation of the Frecciarossa 1000 train, which is being built by a consortium between Ansaldo Breda and Bombardier and is considered the most advanced pan-European train in the world. In the list of the train's features—spanning from active hydraulic compensation of the radial acceleration to the most advanced security and control systems—a state-of-the art Wi-Fi connectivity feature was included. I think this shows how important Wi-Fi is recognized to be for the overall train traveler experience.
I also was glad that CommScope's name and reputation continued to be recognized by many of the biggest railway operators. CommScope has done extensive work on high-speed and metropolitan commuter trains around the globe. Three newly published case studies highlight some of our more recent wireless infrastructure projects: