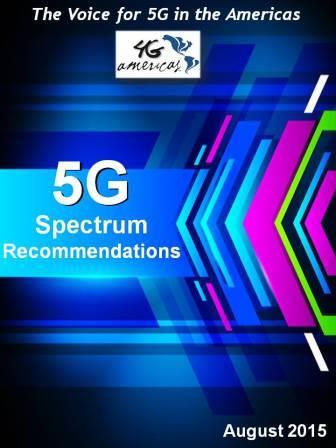 There is a great deal of talk about 5G holding the key to solving all of the technical obstacles the industry is currently facing in meeting data demand and the new use cases expected for the next generation of mobile broadband technology. Yet, amidst the industry chatter, the primary question that goes unanswered lies in whether or not 5G will truly be an 'end all, be all' solution for the wireless industry.
In 2014, 4G Americas published fifteen technology recommendations for 5G. Being a pragmatic technologist, I realize that solving challenges in wireless connectivity will take more than just recommendations for what 5G should offer. The industry will need robust technology innovation as well as more spectrum for 5G to be the success that many pundits are predicting.
Over the past few decades, the wireless industry has increased spectral efficiency exponentially as it evolved from analog to LTE/LTE-Advanced solutions. Throughout this period of time, operators have primarily used spectrum below 3 GHz; however, as we plan for networks in 2020 and beyond, the industry will need to acclimate to using spectrum in much higher bands. To address some of these factors involving 5G and spectrum, 4G Americas published a white paper simply titled, 5G Spectrum Recommendations. The recommendations highlight the need for exploration on the challenges and implications with different frequency ranges, various licensing aspects and potential technology enhancements to enable access to new spectrum as the industry evolves from utilizing low and mid-band spectrum to very high-band spectrum. The use of higher frequency bands (above 6 GHz) will require new standardized technologies to enable its efficient use.
The buzz around 5G technology predictions, potential solutions and recommendations is important for the industry to progress down the road to the next generation of mobile broadband technology. However, let's not forget the analogy which stands abundantly true; like fish need water to survive, the mobile broadband industry needs more spectrumfor 5G systems to be successful. We also must keep in mind that spectrum isn't the easiest to obtain; in the U.S., it takes 13 years from its planning stages to fully develop, according to a CTIA study from this year. Despite the years it might take, I have to give kudos to the U.S. government for putting forth their recommendations in August regarding which high band spectrum ranges should be studied at WRC-19. These types of recommendations will provide leadership in the ongoing efforts to solve the technical obstacles and data demand challenges for the future of our connected society.
To learn more about 5G and hear various industry experts' perspectives on 5G spectrum recommendations and technology concepts, join us for 5G Week with 4G Americas, a free webinar mini-series on September 2nd and 3rd. Click here for more information and to register.