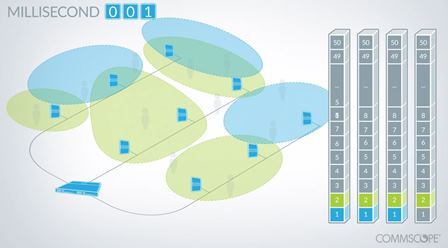 Imagine if we heated our homes by erecting a series of giant blowers on outdoor towers and pointed them at our houses. It sounds preposterous, but in fact that is how mobile services are delivered today. An estimated 80% of wireless usage is indoors, but the vast majority of RAN infrastructure is outdoors. Of course the heating analogy is imperfect, but you get the idea: we're not delivering service where people consume it.
Rising Importance of In-Building Wireless
Indoor cellular coverage is no longer nice-to-have. According to a study conducted by Coleman Parkes Research and CommScope, 87 percent of facilities managers and architects consider in-building coverage to be "imperative." Another study by Nemertes Research and the Small Cell Forum found that 94 percent of enterprise IT executives believe in-building cellular performance impacts their business.
As our industry is defining 5G, it's a good time to step back and consider how we can treat indoor delivery as a primary objective rather than as an afterthought.
C-RAN Small Cells on the Path to 5G
As a long-standing leader in distributed antenna systems (DAS) and now an innovator in small cells, CommScope has experience with the challenges and opportunities for in-building wireless delivery. Our focus on C-RAN small cells is at the heart of our effort today. It turns out that the C-RAN small cell architecture has significant advantages for in-building wireless:
Delivering the best possible user experience, in terms of high throughput, low latency, and consistency;
Providing attractive deployment economics by simplifying provisioning and ongoing operation, and;
Supporting a range of business models, including traditional operator-led as well as emerging enterprise-led models.
What's more, C-RAN and its implicit enablement of virtualization are consistent with leading approaches to 5G.
Learn More at SCWS Americas
Next week the small cell industry will convene for the SCWS Americas conference, November 1-2 at the Fairmont Hotel in Dallas, Texas. I've been invited to speak in the 5G HetNets track, alongside speakers from Telefonica, Microsoft, iGR Research and others.
My session, "Virtualizing the RAN on the path to 5G: Supporting an indoor-first approach" on Wednesday, November 2 at 9 a.m. will explore the advantages of C-RAN small cell architecture in LTE today and 5G in the future. At the event you can also visit CommScope at booth 54, talk with our experts, and see a live demo of OneCell cell virtualization, the breakthrough that took the Small Cell Forum's 2016 award for technology innovation.
I hope to see you in Dallas.