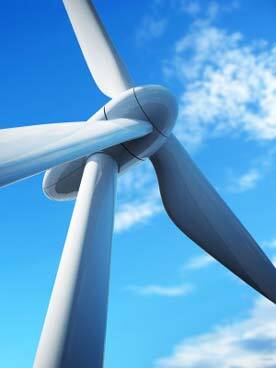 I think it is safe to say that "going green" is not a fad. More and more companies are changing their ways and adopting green policies. Many companies are working hard on reducing their carbon footprint or their reliance on energy.
There's no question that green initiatives are a major topic of discussion in today's world. While some companies try to reduce their energy usage, there is no doubt that energy will always be needed; however, the world is looking to harness energy in other ways.
One such way is using wind power. Right now in the United States, wind power is rising to the historic levels we saw in 2011 and early 2012 because of the federal tax-credit extension announced by U.S. Congress in January.
Utilities and wind farm contractors are reaping the benefits of these tax credits for constructing wind farms that are made from products manufactured in the United States.
One material that wind farms are deploying is copper clad steel. It is an alternative to pure copper grounding wire. In layman's terms, it has the same "look, taste, feel and smell" as pure copper; however, it offers increased durability and costs approximately 20 percent less—depending on the current price of copper. Current and future wind farms will also receive the added benefits deploying a grounding conductor that has increased strength, a lower impedance path to the Earth and increased quality, providing more than just a financial savings.
While contractors look to keep costs down without jeopardizing the integrity of the grounding system they install, they can be assured that CommScope's GroundSmart® Copper Clad Steel solution is ideal for just this reason. To date, hundreds of thousands of feet of GroundSmart have been deployed in wind farms across the United States, including in Texas, Oklahoma, Michigan and Kansas.
So, if you are constructing a wind farm, it makes sense to deploy GroundSmart for your grid to protect your power-generating investment.