This post is part of a blog series about intelligent buildings, based on content from the CommScope Connected and Efficient Buildings e-book.
How connected are you? Do you get upset when your phone or tablet doesn't work at the office, in a restaurant, or at your home? We are a connected society, and these devices have become an important fabric of our lives. Many of us expect all our devices to work on demand in any and every building we enter.
Today water, electricity, and HVAC (heating, ventilation and air conditioning) are expectations for almost every building. Is it time to have that same expectation for wireless connectivity? According to ABI Research, more than 80 percent of all wireless traffic originates or terminates indoors. CommScope recently conducted its own research into in-building wireless networks, surveying building owners, operators and architects. These six statements were assessed by respondents: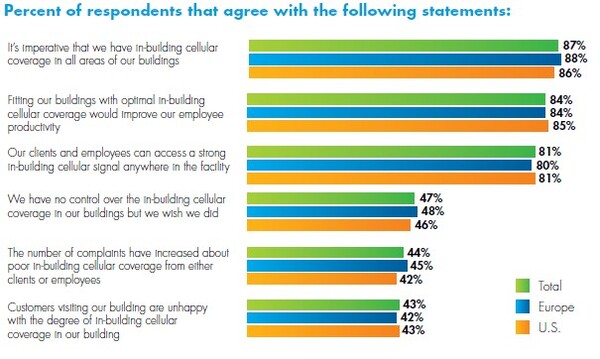 As you can see from the data, wireless connectivity has become an imperative among connectivity users. I think it is fair to say they don't care what technology is providing the connectivity, all they care about is that it works all the time, every time. Unfortunately, nearly 45 percent of our survey respondents said clients or employees complain more now about poor in-building cellular coverage.
What can we do to address the wireless coverage problem? The first step is to develop a wireless connectivity plan, which is especially important in new construction and renovations. This is the best time to ensure the proper cabling infrastructure is in place for now and the future. It is important to make sure a standards approach is used when planning your cabling infrastructure. Check out this tip sheet Using a Universal Connectivity Grid for More Flexible and Cost-efficient Cabling for advice about establishing a universal ceiling grid.
Keep in mind that both licensed and unlicensed wireless connectivity standards are evolving. It is important that the infrastructure is in place to support the ever increasing wireless traffic demands can be met. Technology for in-building cellular wireless coverage, in particular, has evolved significantly over the past few years. New systems use the same IT structured cabling platform to connect Wi-Fi access points, security cameras, and standard IT network connectivity. To explore CommScope's in-building cellular solutions and technology, check out our white paper What's your best route to in-building wireless?
Consumers have already changed their expectations for wireless coverage outdoors. Whether we like it or not, those same expectations held to wireless connectivity in the building. The real question is what are we going to do about it?
For more information about wireless as the next utility, and CommScope's implantation recommendations, check out chapter 7 in the Connected and Efficient Buildings e-book.