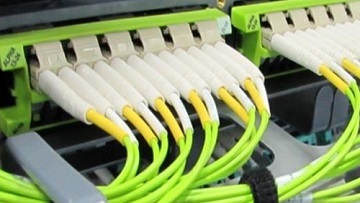 During the last year, you may have heard about the various benefits of OM4+ fiber. For instance, it's better for single wavelength applications, and it's comparable to OM5. While OM4+ has its beneficial attributes, it is proprietary and not standardized. Basically, the public is being asked to take OM4+ proponents at their word. As legendary New York Yankees catcher Yogi Berra, once said, "It's like déjà vu all over again." Here's why:
In 2000, the ANSI/TIA/EIA-568-B.2-1 standard definingCategory 6 cabling was still in development when talk of a "new and improved" version, Cat 6E, began getting out in the industry. The performance claims from 6E manufacturers had a familiar ring: "Category 6E performs better than Category 6 specifications at frequencies well above the 250-MHz limit, so it must be better. That's why we're calling it 6E (enhanced)."
The only problem was there was no standard referencing Cat 6E, nor has there ever been. This prompted Cabling Installation and Maintenance back then to caution network operators: "…please know, for your own purposes in choosing products for your upcoming projects, that the TIA currently has no plans to pursue anything that it will call Category 6E."
Shortly after the article was published, ANSI/TIA/EIA-568-B.2-1 standard for Cat 6 was adopted. Yet, like an urban myth, Cat 6E claims persisted. The CompTIA A+ Complete Review Guide, published in December 2015, made it a point to remind readers: "While not an official standard, many vendors now offer a Cat 6E cable and market them as providing better performance, which may be true, but whatever improvement there is will vary from vendor to vendor, since there is no official standard."
CLICK TO TWEET: When it comes to OM4+, we think it's deja vu all over again. CommScope's Paul Kolesar explains.
This is exactly where we are today with OM4+ fiber. While OM4 and OM5 are widely referenced in Ethernet and Fibre Channel applications, there are no standards that reference OM4+.
While there has been testing done to support OM4+ claims, it has been carried out privately. Further clouding the issue, in stating the bandwidth available for each wavelength supported, some OM4+ proponents have starting using the non-standard "effective bandwidth (EB)" instead of the standard "effective modal bandwidth (EMB)." These are, in fact, two very different metrics which are not directly comparable.
In other cases, OM4+ specifications claim EMB ranging from 5000 to 5640 MHz·km (at 850 nm). While this is indeed higher than the accepted 4700 MHz·km minimum 850 nm EMB for OM5, studies show that values above 4700 MHz·km result in small and diminishing improvement in application performance. Even if claims of higher EMB are true, there appears to be little benefit.
This is where industry standards organizations play such an important role. Their work is highly methodical because, in many ways, they are charged with plotting the course forward for the industry. For any new technology to be incorporated into the standards, it must prove that it provides significant and meaningful advantages over alternative technologies.
Such was the path OM5 took. In June 2016, OM5 was standardized in TIA 492AAAE as the first multimode fiber specified for wavelength multiplexing (i.e. wideband) applications. Since then, it has been incorporated in emerging standards for Ethernet at 50 Gb/s, 100 Gb/s, 200 Gb/s and 400 Gb/s, and 64G Fibre Channel. The meaningful differences between OM4+ and OM5—or most proprietary versus standardized technologies for that matter—are OM5's recognition within application standards and its industry-vetted performance.
For a more in-depth comparision between OM4+ and OM4/OM5, take a look at CommScope's recently released white paper.