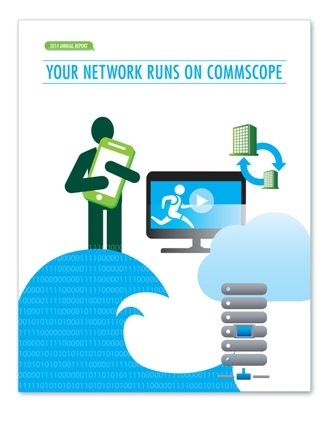 CommScope had an outstanding year in 2014, with financial and operational highlights throughout the organization. All that and more are covered in the company's just-released 2014 annual report and Form 10-K, available for viewing and download.
The report, titled "Your Network Runs on CommScope," contains a shareholder letter from President and Chief Executive Officer Eddie Edwards, a handy at-a-glance chart describing CommScope's business segments, and insights from our three business segment leaders on some of the trends and issues they expect will impact the world's network operators. And, of course, the Form 10-K provides extensive detail into the company's overall business operations and financials.
What's behind the report's title? Your Network Runs on CommScope represents our belief that CommScope has played a role in the majority of networks around the world. In an ever-evolving, dynamic and bandwidth-intensive world, successful networks must be agile, efficient, always-on and future-ready. That's our specialty. Our long-standing expertise and experience in helping customers solve networking challenges innovatively means that your favorite TV shows, texts, tweets, videos, phone calls, emails, financial transactions, downloads, posts, business orders and video conferences very likely travel over a CommScope-supported network.
Here is a sampling of just some of what you will find in the report:
"As bandwidth requirements continue to grow, we expect to be part of many more networks, new and existing. The growth in data usage from consumers, businesses, governments and others is creating capacity constraints that operators struggle continually to keep pace with. That is the sweet spot in which CommScope exists."—Eddie Edwards, president and chief executive officer.
"While hybrid fiber coaxial networks are cost effective and will be viable for years, operators are installing fiber deeper into their networks—ultimately all the way to each individual home and business. Operators have begun this push and are investing in the infrastructure needed to do it."—Ric Johnsen, senior vice president, Broadband.
"At a basic level, significant growth in the internet and the vast amount of data processed over networks requires a tremendous increase in computing power to process and store all that digital information. That means more data centers and all the computing and networking infrastructure that goes with them."—Kevin St. Cyr, senior vice president, Enterprise.
"Complexity always will be part of this industry, considering the vastness of technology, processes, standards and markets we serve. However, as architecture have changed and evolved through various technology generations, they have consistently been simplified, believe it or not. And this simplification helps create network quality."—Morgan Kurk, senior vice president, Wireless.
We hope you enjoy reading "Your Network Runs on CommScope," our 2014 annual report to shareholders.