Modular design, per my observation, is one of the best practices in the data center. CommScope's Living Infrastructure recommends modular designs for the data center white space. Living Infrastructure is an architectural approach to designing, deploying and evolving data centers that encompasses a comprehensive portfolio of structured cabling solutions and planning tools.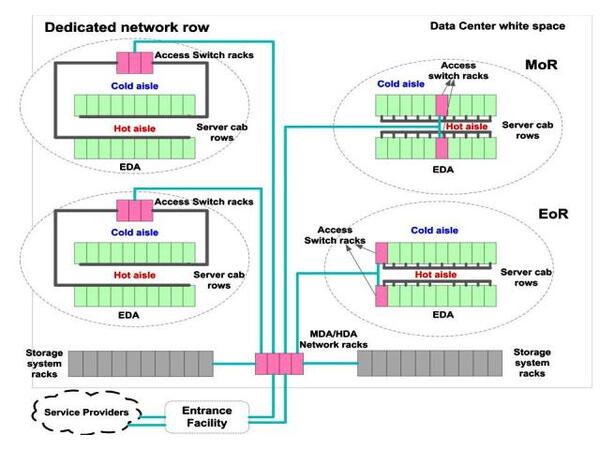 The zone distribution cabling deployment model organizes the data center white space by zones as illustrated in the figure here.
The figure summarizes three variations of the zone. Each ellipse represents a zone type. Depending on the location of the access network switch racks shown as the small red rectangle in the figure, a zone may be the type end of row (EoR), middle of row (MoR) or dedicated network row. Once the zone is specified, the zone can be repeated across the white space of a computer hall. CommScope Living Infrastructure provides reference designs for zone cabling.
In my opinion, the zone distribution model is very suitable for medium, large and even mega data centers. The zone distribution model provides excellent scalability, flexibility and consistency across the data center. Cabling channel configurations can be consistent across zones when utilizing the model. The cabling channel configurations include cable length, number and locations of connectors, patch cord length, etc.
With the consistency in cabling channel configurations in the zone distribution model, pre-terminated cabling, such as SYSTIMAX InstaPATCH solutions, can further assist end users for rapid deployment in the data center.
Is your data center white space organized?