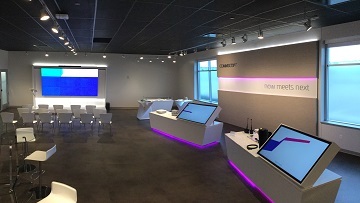 I have more than 30 years of service as a member of the CommScope marketing team. I thought I knew as much as anyone about what we provide and achieve as a company. The last 18 months have given me a new appreciation for what our company is, and more importantly, what it can be.
After the recent acquisition and integration of TE's Broadband Network Solutions business into CommScope, we embarked on one of our largest brand research projects ever. We wanted to hear the voice of the customer: what is important to them, what will make them successful, and what they think of CommScope.
The results of that research project helped us shape and design our new Innovation Center in Shakopee, Minnesota. Many of our major sites have demo rooms and product displays. But an Innovation Center is unique. It gives us the opportunity to host our visitors in an engaging space. They utilize all their senses in a grand environment—at the highest level of physical and digital engagement – to understand our story.
CLICK TO TWEET: CommScope's Bernard Surtz waxes poetic on the company's new innovation center in Shakopee.
And what a story it is. As a company built on organic growth and acquisition, CommScope has a remarkable and sustained level of innovation that we now deliver across all solutions. This innovation speaks to who we are and what we believe in, and the value we bring to customers, investors and the dynamic world of communications.
And the Innovation Center project itself was a tangible experience that reflected our core values of integrity, agility and innovation. The most challenging and enjoyable aspect of the project was engaging our internal team and partners in defining the visitor journey. How do we tell the "One CommScope" story while still being nimble enough to pivot to specific visitor interests, whatever their familiarity may be with our company?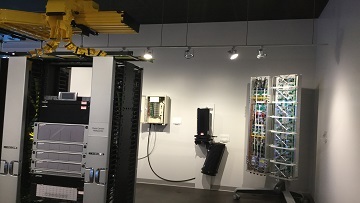 And of course, the best laid plans are indeed only plans until faced with deadlines to build and outfit the space, and welcome our first guests. Specialists in marketing, communications, engineering, customer support, product management, IT and facilities all worked together. I cannot say enough great things about the facility management team in Shakopee who embraced the challenge of creating this exciting new space. We learned together, became fast friends, and delivered a great visitor experience.
The CommScope team listened to our customer research and sharpened our message to communicate the total value we truly bring. That value helps translate to our new brand message: now meets next. Our Innovation Center shows we're prepared for what our customers need now, and what they'll need next. I'm delighted to be a part of building this platform to share our purpose with the world.
I am as excited as ever to be part of the CommScope team, and I'm ready for "now meets next."