CommScope Opens Power over Ethernet Lab for Research and Demonstration of Next-Generation Applications
Power over Ethernet (PoE) is one of the "hot" applications for IT managers today, but a new CommScope research and development lab hopes to demonstrate it doesn't get too hot, at least for the cables involved.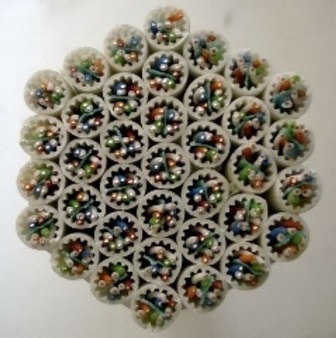 In its new R&D lab in Greensboro, North Carolina, CommScope will trial next-generation PoE applications to verify the performance and safety of the structured cabling systems that support them, especially regarding thermal performance in different real-world installation conditions. The lab will also host demonstrations of next-generation PoE applications such as high-definition security cameras, in-building wireless systems and digital signage in collaboration with ecosystem partners.
PoE is an enabling technology for delivering direct current (dc) electricity along with data over common copper cabling such as Category 6A. Office workers might know of PoE in the form of VoIP telephones, which were among the first devices to utilize PoE.
"Next to the data transport itself, PoE is the most important enabler of devices that use structured cabling in enterprise buildings today, which is critical as IT managers look to drive more value out of their installed copper cabling plant and connect more devices," said Ernie Pickens, senior vice president, Enterprise Solutions, CommScope. "CommScope remains committed to ensuring the safety, reliability and superior performance of our cabling and connectivity solutions for PoE enabled devices, now and as they evolve."
CLICK TO TWEET: With new 4PPoE standard approved, CommScope will trial next-gen PoE applications in its new R&D lab.

CommScope's new lab opens as the Institute of Electrical and Electronics Engineers just approved the new four-pair PoE standard (4PPoE) known as IEEE 802.3bt, which enables higher-power device connections of up to about 90 watts at the power source equipment. As more power can be delivered by PoE switches, more research is needed to verify the impact to structured cabling of a variety of installation conditions. Some of the new PoE applications to be trialed could include:
High-tech security cameras with advanced features like zoom and facial recognition
PoE powered computers, thin client devices and digital signage
In-building wireless systems
LED lighting systems
Building management systems that incorporate security, lighting, HVAC control, in-building wireless and access control
Internet of Things networks
Throughout the development of the new IEEE standard, CommScope has been sharing test results with standards bodies on the theoretical challenges in the new higher power delivery. For its initial research in the new lab, CommScope is trialing equipment from Cisco, Signify (formerly Philips Lighting) and Thinlabs to demonstrate a smart office building scenario with lighting, security cameras and LAN switches connected via 4PPoE on SYSTIMAX® cabling. CommScope engineers will analyze the cable's heat emissions in a real-world setting with cables installed in ceilings and through walls while running high-power applications.
Grand View Research predicts the global PoE market will reach USD 3.77 billion by 2025 as the 4PPoE standard empowers more applications and devices to utilize the technology.
Additional Resources:
—END—
SYSTIMAX is a trademark of CommScope, Inc.
About CommScope:
CommScope (NASDAQ: COMM) helps design, build and manage wired and wireless networks around the world. As a communications infrastructure leader, we shape the always-on networks of tomorrow. For more than 40 years, our global team of greater than 20,000 employees, innovators and technologists have empowered customers in all regions of the world to anticipate what's next and push the boundaries of what's possible. Discover more at http://www.commscope.com.
Follow us on Twitter and LinkedIn and like us on Facebook.
Sign up for our press releases and blog posts.
News Media Contact:
Bill Walter, CommScope
+1 708-236-6634 or publicrelations@commscope.com
Financial Contact:
Phil Armstrong, CommScope
+1 828-323-4848
This press release includes forward-looking statements that are based on information currently available to management, management's beliefs, as well as on a number of assumptions concerning future events. Forward-looking statements are not a guarantee of performance and are subject to a number of uncertainties and other factors, which could cause the actual results to differ materially from those currently expected. In providing forward-looking statements, the company does not intend, and is not undertaking any obligation or duty, to update these statements as a result of new information, future events or otherwise.
Source: CommScope