According to the CEA, three quarters of consumers plan to purchase consumer electronics as gifts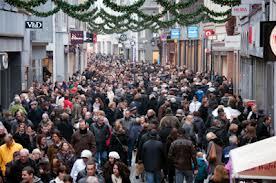 this holiday season, so there's a good chance that your family of connected devices is about to get bigger...
But guess what. Your connected experience is only as good as the weakest link in your home network. And that 20th century cable modem is holding back your shiny new tablet from getting the latest, fastest, most immersive, and awesome new media experiences.
So this holiday season, get all the fun you deserve and upgrade your cable modem with the Motorola-ARRIS SBG6782-AC Gateway.
It's the world's first retail cable modem to support the blazingly fast WiFi 802.11AC standard. And it sports a host of connectivity features like dual-band concurrent WiFi radios, a 4-port gigabit router, and support for MoCA networking and DOCSIS 3.0—all of which is cable geek slang for your buffering days are over.
Tell us below how you will connect your home this holiday season.
Happy Holidays from ARRIS.