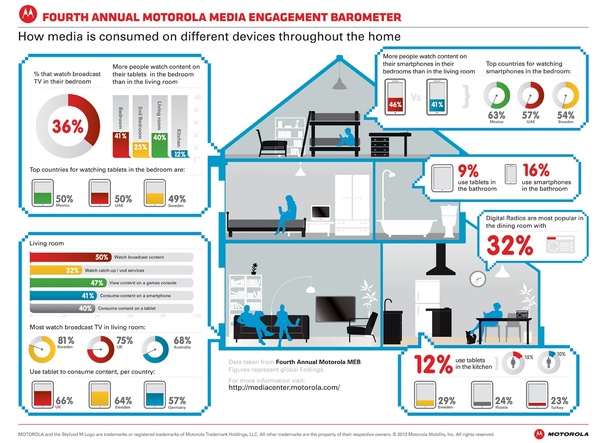 Every year, we publish the results of our Media Engagement Barometer—a snapshot of the way that people around the world are interacting with media.
Our latest study, published today found that we're watching an enormous amount of content, in some surprising ways, in unexpected places…
For instance, more than 1/7th of our daily lives is spent watching video. That's 3.5 hours a day. 25 hours per week.
Not impressed? You knocked that out in two days during a Battlestar Galactica marathon? Well, perhaps you're among the growing population of tablet owners (26%) who have achieved an industry reputation as "super users."
Yes, you tableters watch more videos, record more content, and do more online shopping than those without. And you're more likely to have blogged, tweeted, linked, status updated, and chatted about it too. Your tablet-viewing migration from the living room (40%) to the bedroom (41%) is the stuff of legend. You are multiscreen pioneers. And we salute you.
Our barometer also covered multiscreen and time-shift habits, the cost of content, social media use, connected home trends, and more from around the globe.
Here are other interesting findings:
 29% of the TV we watch is recorded. Not live or streaming.
Most of us (76%) want our favorite content automatically loaded onto our mobile devices so that we can watch it on the go.
75% of us record shows so that we don't have to watch the ads.
For more from our 2013 Media Engagement Barometer, check out our press release.