More than half of what we stream over the Internet is video, according to Sandvine and traffic consumption in all regions continues to grow at a rapid rate.
With this amazing growth in video consumption over the Internet, it's no surprise that service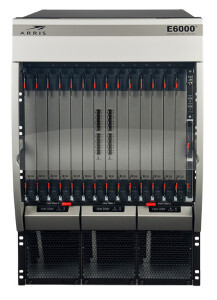 providers are looking for new ways to expand capacity of their broadband network in ways that are both economical and seamless. That's why we introduced our E6000 Converged Edge Router platform last year. It uses an incredibly efficient architecture and an integrated, hitless sparing design to keep providers ahead of today's IP consumption trends, while ensuring a reliable and scalable solution for future services and network demands.
Since the E6000's introduction in June of 2013, Comcast, Time Warner, WOW!, GCI and others have demonstrated why it is the leading CCAP capable platform in the industry—using it to deliver high-quality content to over a million subscribers. This rapid success speaks to the demand and stability of the E6000.
Todd Kessler, our VP of CMTS/CER Product Management, recently demonstrated the E6000's impressive downstream hardware capability (64 channels per port), DOCSIS and video capabilities, and hitless failover performance at SCTE.
The proof is in the numbers: one million reasons and counting…