A lot of exciting conversation is taking place around the water cooler here at CommScope since our recent press release announcing the successful demonstration of next generation Category 8 cabling at the International Electrical and Electronics Engineers (IEEE) 802.3 NGBASE-T study group meeting in Phoenix, Ariz. All components for this demonstration were developed by CommScope engineering staff and are compliant with the draft ANSI/TIA-568-C.2-1 specifications. To recognize advances in technology and harmonize with TIA, ISO/IEC/JTC1/SC25/WG3 also adapted the names Category 8.1 and 8.2 for components used to build Class I and Class II channels in support of 40 G applications.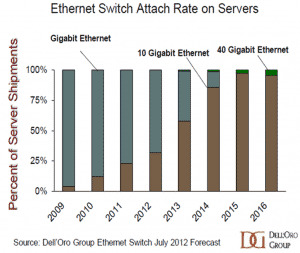 One important thing to note is why the feasibility of using twisted-pair-copper cabling (with RJ-45 connectors) to support 40Gb/s is so critical to the overall market. The RJ-45 connector is with no doubt one of the most common connector types used in data networks. As the market continues to grow from 1 Gb/s to 10 Gb/s, the backward compatibility of this technology will continue to be of extreme importance as work continues towards 40 Gb/s. This will allow data center operators to evolve their networks based on changing requirements and do so with the least amount of disruption and cost to their networks.
Additionally, twisted-pair-copper cabling has proven to be an extremely cost effective solution and designers, installers, and customers have a lot of experience and confidence in copper-based networks. While the eventual deployment of 40G-based copper solutions is still a few years out, this technology will allow organizations to think about how they are deploying copper based solutions today with an eye to the future. Doing so correctly will help ensure infrastructure costs are well managed from both a product and support standpoint.
I am really pleased to hear what my peers have had to say about this latest concept and would like to know what you think.