Connected devices are ubiquitous. Today, more than a third of children under the age of two are using mobile devices—like smartphones and tablets—before they can even speak complete sentences!
ARRIS innovations ensure that our Internet connections and home networks can keep up with this paradigm shift in the way that we live and work with connected devices. Here are a few examples that we introduced this week at CES…
At the show, we showcased two ultra-broadband (D3.0) cable modems from our ARRIS-Motorola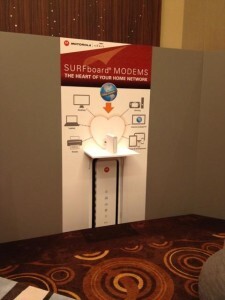 SURFboard® line of products: the SB6183 and SBG6700-AC. Both ensure the fastest possible Internet into the home, while the latter utilizes an ultra high-speed Wi-Fi® connection that lets users stream digital multimedia at lightning-fast speeds with minimal lag and buffering.
We also showcased the WECB460 Wi-Fi adapter -- a great way to reduce the strain on the home Wi-Fi network now connecting up to 8-10 wireless devices in a typical U.S. household. These adapters use the home's existing coax wiring to deliver a strong, wired connection to devices all over the home. And our Touchstone Telephony Gateway TG862 is a great solution for voice hook-up and perfect for triple-play users.
Also on display: our current Wi-Fi and wired connectivity solutions for delivering content throughout the home, including the SBG6580, SBG6782-AC, SB6121 and SB6141 SURFboard Wi-Fi Gateways as well as our SBM1000 SURFboard SMART Video Adapter.
Did you attend the show? Let us know in the comments what you enjoyed the most.