The ARRIS SURFboard® SB6183 is here, and it's everything you hoped it would be and more…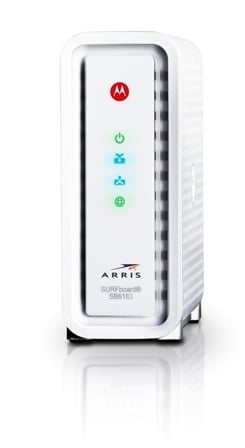 It's the world's first modem to feature 16x4 bonded DOCSIS 3.0 channels, which means you get speeds of up to 686Mbps downstream and 131Mbps upstream. Everything you need for today's multiscreen and 4K video, and all the speed you need for a long, long time.
We know you have a lot of burning questions about the SB6183, so we've put together a handy FAQ below:
When can I buy the SB6183, where, and for how much? The SB6183 will be available at the end of October 2014 at Best Buy. The MSRP is $129.99.
Will the SB6183 work with my cable provider? Yes, just like our other retail modems, the SB6183 is compatible with all major U.S. cable provider networks, including Comcast, COX, Time Warner, and others. But if you have any doubts, call your cable provider and confirm.
What are my color options for the retail unit? The retail unit is available in a compact, sleek white design while a leased unit is available in black.
How does this compare to other ARRIS modems on the market? Finding the right network solution for your home is important. Check out our handy Buyer's Guide to help make your decision easier.
I'm happy with my current modem, why should I upgrade? It all depends on what you like to do online. If you are a gamer, stream video, download music and want to do it fast, then this modem is for you. With 16 download & 4 upload channels, you don't need to worry about future speeds.
How do I set up my modem? The SB6183 is easy to install, activate and use, but just in case you are stuck setting it up, we've put together a how-to video to help you out here.
If you have any other questions about our new SB6183, let us know in the comments or tweet us here.