Working from home is a growing trend, and it's putting new pressure on home networking
equipment to keep up with the speed of business. Today, nearly a quarter of Americans do some or all of their work at home, according to the Bureau of Labor Statistics.
And with growing business demands, home office enthusiasts need to squeeze every last ounce of bandwidth out of their data service. ARRIS helps them do that, today and long into the future.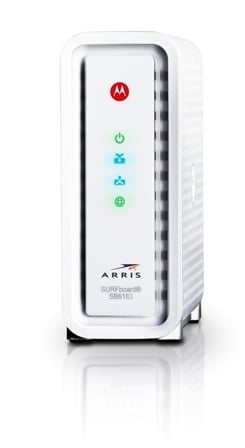 The ARRIS SURFboard® SB6183 is the world's fastest modem, capable of reaching unmatched in-home data rates over 686 Mbps receiving and 131 Mbps sending—more than enough for today's Internet speeds and ready to keep connections at peak performance for years to come.
Whether you work from home every other week or run a Fortune 500 in your living room, you can get the speed you need from ARRIS. Pick up the SB6183 or many of our other industry-leading products at BestBuy.com or Amazon.com!