How we experience televised sports is about to change…
ARRIS is leading a transformation in video that will make watching the game a different experience for each viewer. Think personalized programming that lets you choose the length of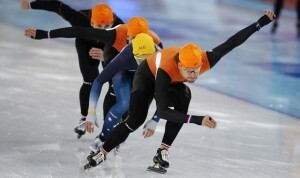 the highlight reels, that gives you different camera angles, customized second-screen content, and personalized advertising—and all on the closest or most convenient device.
The programming and advertising around last week's Big Game in the U.S. shows us the potential for this kind of experience. And with the start of the Olympics this week and the World Cup kicking off in a few months, there's a lot for service providers and programmers to consider when they look ahead to differentiating tomorrow's sports entertainment…
Offering personalized, edited packages of live or post-game coverage is not only scalable, but just around the corner.
Delivering the action from the viewpoint of a quarterback, downhill skier, or midfielder isn't farfetched anymore.
Providing a timely ad on your smartphone with a deal on your favorite team's jersey is real.
Streaming mind-blowing 4K and 8K video to a consumer's TV, tablet, or smartphone is closer than ever.
We'd like to give you a glimpse of tomorrow's viewing experience and what's being done today to get us there…Leave us your thoughts in the comments below.