A cable operator's headend is jam packed with specialized equipment to deliver content to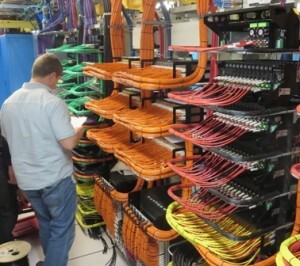 thousands of people. Space is at a premium, more equipment means higher electrical bills and increased cooling capacity. New facilities are capital intensive and time consuming to get up and running.
ARRIS understands the situation… and the challenge of scaling an already crowded facility to provide tomorrow's services. That's why we developed our Hub Densification Service.
Our team of engineers and project managers works with cable operators to redesign their headends and hubs. The team focuses on changes that will save or recover space, cut down on power consumption, and reduce the cooling needed to keep equipment functioning properly.
The Hub Densification Service benefits greatly from the fact that ARRIS's solutions are designed to pack a lot of functionality into a small box. Our portfolio offers cable operators a variety of options for reaching the capacity and scalability they need in an uniquely small footprint: like our E6000 Converged Edge Router, APEX3000, and new RF management technologies, which all require minimal rack space and power.
Our team builds-out the racks at an off-site location and then brings them in (including OEM and third-party products) ready to install—minimizing impact on current operations.
The resulting solutions can reduce operating expenses (reduced power bills and reduced staffing -as compared to operating two facilities) and capital expense (avoiding, potentially, millions of dollars in real estate investment).
For more information, contact us here.