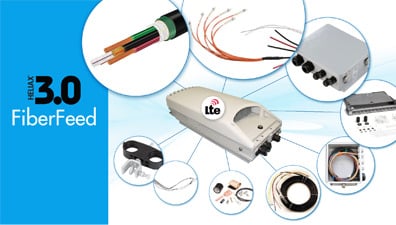 One infrastructure technology is enabling the convergence of networks—optical fiber. As the requirements in both the wired and wireless worlds fuel the need for high reliability, low delay, high capacity and extended distances, fiber optic solutions are reaching deeper into the network.
Over the last decade, wireless network architectures have been evolving from the legacy cell site architecture where large radios are located remote from the antennas, to an architecture wherein a separate RF portion of the radio can be located more closely to the antenna. This separation of the digital radio (base band unit [BBU]) from the analog radio (remote radio head [RRH]) allows for a reduction of the equipment foot print at the site and for a more efficient network operation. A digital fiber optic link (coupled with power conductors) provides the connection between the BBU and RRH called fiber-to-the-antenna (FTTA).
The potential for today's current and emerging standards such as LTE are huge and exciting. They are already redefining what customers expect from their wireless providers. At the same time, the challenges of deployment can be daunting. How can you best optimize your current infrastructure and adapt to these new technologies? What is the best method for adjusting existing tower components to meet the new critical needs of deploying RRH without overloading the tower? How do you ensure adequate fiber capacity that will enable you to grow beyond tomorrow while making sure your CapEx and OpEx costs do not spiral out of control?
At CommScope, we believe that the solution begins with the basics: your cabling system. It is the core component of your infrastructure. The CommScope Infrastructure Academy's SP6107 – HELIAX FiberFeed Certification course will hopefully answer some of your questions in providing a flexible infrastructure for the future of cell site installations.
The course highlights product options available and explains proper installation. It also looks at fiber end face inspection, which is a critical element of installation and troubleshooting. I encourage you to take this course. I also welcome your feedback. Please use the comment section below.