Romance is all about personalization.
Just ask anyone with pollen allergies who's ever been gifted a dozen roses.
Everyone has a preference—the secret to our hearts is knowing what we want.
In a recent survey of UK consumers, we found that more than three out of four people avoid romantic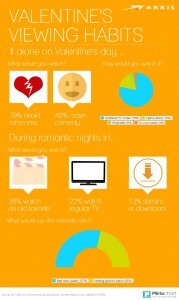 comedies altogether if they're alone on Valentine's Day. Now, wouldn't it be nice if your service provider knew that? Then you wouldn't have to wade through cheesy romantic comedy movie after cheesy romantic comedy while you surf through TV guide waiting for your better half to return from work.
Well, when it comes to entertainment, ARRIS thinks that your selection of shows, your video recommendations, and how they look on the screen should be just as unique as you are.
That's why we developed technology like our Merchandiser platform, which allows your service provider to know your movie preferences, so that they can have your top choices waiting for you on the front page of your guide as soon as you flip on the set.
Our survey also found that while a whopping majority of people head for the comfort of the living room on Valentine's day to watch TV on the big screen, viewers also are taking their favorite characters around the house with them—nearly a tenth of 18-34 year olds like watch a TV series while taking a hot soapy bath! Today, our technology helps service providers give you the choice—freeing your entertainment to your favorite screen, wherever you are. Romantic, no?
Here's another statistic for romantic nights in: over a third (38%) of UK consumers prefer to watch a movie that they know and love, while 22% choose scheduled TV programming, and only 13% go for streamed or downloaded content.
We're all different, but with the right technology, romance is easier than ever.
What would be your perfect Valentine's viewing experience? Leave us a comment or Tweet us on @ARRISEverywhere!