Spring has sprung. It's time to clean house, and ARRIS can help.
All your family's gadgets fight for bandwidth – making things messy… and slow. But ARRIS has two products that will put you on the fast track to a clean home network.
Our SURFboard® SB6141 Cable Modem ($99.99), with DOCSIS® 3.0 & IPv6 support, and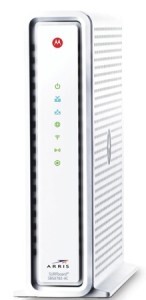 our SURFboard SBG6782-AC Gateway ($219.99), an all-in-one device with 802.11AC WiFi®, give you new levels of connectivity matched with the fastest available wired and wireless Internet speeds. They'll also save you more than $200 over five years vs. renting equipment from your service provider.
That's like 60 cups of coffee... Which you'll need, when our SURFboards put you hours ahead of your spring cleaning schedule, and make it easier than ever to stream your way through a marathon of last season's House of Cards.
So, as you begin to organize your closet, make sure to give your home network some attention as well. A slow connection is so last season.
Happy cleaning!