We can't take all of your holiday stress away, but we can take at least three things off of your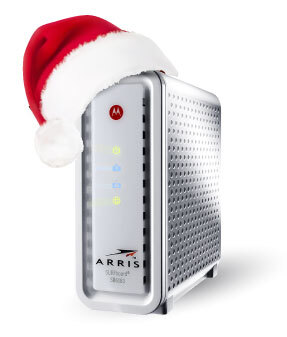 winter worry list: buffering, incompatibility, and incremental rental fees with the ARRIS SURFboard® SB6183.
Unwrapping a new modem only to find out it won't work with your cable provider is pretty disappointing. Fortunately, there are no unwanted surprises with the SB6183. It works with all major U.S. cable providers, including Comcast, COX, and Time Warner.
And the SB6183 ensures that buffering and lag are ghosts of holidays past. The SB6183 is the world's fastest modem in retail, with speeds up to 686 Mbps downstream and 131 Mbps upstream. This means that nothing is standing between you and all the bandwidth that you pay for… so get that cool new streaming service or that new immersive multiplayer game. You're covered.
And we haven't forgotten that this is a time for managing budgets and keeping resolutions. When you invest in a new SURFboard SB6183, not only are you buying a ticket to screaming fast Internet for years to come, but you'll save money in the New Year.
Treat yourself to something nice. Check out the new ARRIS SURFboard SB6183. Happy holidays!